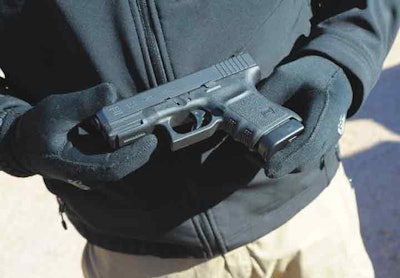 Editor's note: View our full photo gallery with many more product we saw at SHOT Show 2013.
As this year's Shooting Hunting and Outdoor Trade (SHOT) Show opened in Las Vegas last month, Vice President Joe Biden was submitting his recommendation on gun safety that would include a nationwide ban on the manufacture and sale of assault weapons for civilian use.
But on the SHOT Show floor it was business as usual. The big news was SIG's new submachine gun, which the company stressed would be sold in a semi-auto version for the civilian market. Purchase would require the same licensing as short barrel rifles, so those plans may not be derailed by a possible assault weapons ban.
Assault weapons, modern sporting rifles, whatever you want to call them aside, the big trend at this year's SHOT Show was flashlights so bright that they can probably take X-rays. Police staff members accidentally got blasted a few times with these 700-lumen light sabers, and they are more less-lethal weapons than illumination tools. Anybody caught in the beam of one of these things during a nighttime traffic stop is going to be incapacitated. Which is why three of these flashlights are on our Best of Show report for this year.
5.11 Tactical: Patrol Breaching Kit
This relatively lightweight breaching kit was designed to help law enforcement officers gain rapid access to buildings during active shooting incidents. The kit includes two tools: a Multipry and a Multisledge. The 28-inch-long Multipry has a duckbill shape with a serrated edge at one end and a forked prybar head at the other. The 32-inch Multisledge features a sledge head and a raking tool.
ATK's BlackHawk division introduced a slew of concealed-weapon carry bags and go bags for off-duty and duty use. The line includes the Carry Racquet Bag, Workout Bag, Carry Backpack, Carry Sling Pack, Range Bag, Board Pack, and Courier Bag. The bags were designed to provide officers greater stealth when transporting weapons to and from home. The bags range in price from $65 to $175.
The Clear Action Mag from CAA is a professional-quality 30-round AR magazine with a clear window that makes it easy to count rounds. Constructed of high-impact polymer, the mag is tough enough to survive being run over by a truck. Features include a full magazine indicator button that can be felt under stress, non-tilting follower, and corrosion-resistant stainless steel spring. Available in black, green, and khaki.
Daw Tech: Special Operations Bunker
Daw Tech describes its Special Operations Bunker (S.O.B.) as a "portable rolling rifle-grade ballistic shield." The rolling shields can connect to form twin shields that offer substantial protection for operators. Ballistic protection is available up to NIJ Level IV (.30 Armored Piercing). Features include large windows, run-flat tires, and optional gun ports. Each S.O.B. module collapses and can be easily transported in a pickup truck or SUV.
Glock showed its new concealed carry compact pistol. The G30S is a slimmed down version of the G30. The Austrian gun maker says the G30S was designed to complement the company's G21 and G36 models and was created by matching a G36 slide with a G30SF frame. The double-stack .45 ACP holds 10 rounds. Barrel length is just under four inches, empty weight is a bit more than 20 ounces, and a grip extender makes the new pistol comfortable in almost any hand. The G30S fits many G19 holsters.
Kahr Arms introduced a low-cost variant of its P380. The CW380 is a striker-fired, compact handgun with a polymer frame and stainless-steel slide. It accommodates 6+1 rounds. Kahr provides one magazine. The CW380 retails for $419 and is now available.
The new Transformer Armor System from KDH is a modular concealable ballistic vest that can be adapted to meet specific mission requirements. At the core of the Transformer system is an internal speed plate carrier strapping system that connects directly to the ballistic inserts. The Transformer system prevents the armor sag that is all too familiar to law enforcement officers, and it eliminates hook-and-loop fasteners. The carrier incorporates next-generation fabrics for moisture wicking and odor protection.
Designed specifically for use on ARs, Leupold's new Mark AR Mod 1 optic offers optional green FireDot Illumination. Features include a fast-focus eyepiece, 0.1 Mil adjustments, a power selector dial, and advanced lens coatings. It can be mated with a Leupold Delta Point reflex sight.
Magnum USA introduced its Mach 2 8.0 Speed Series lightweight duty boot. The athletic boot is constructed primarily of Clarino microfiber, which is lighter than traditional nylon and offers breathability with better durability than leather. Each boot weighs an average of 14.2 ounces. The boot also offers a special flex zone that allows greater ankle movement, and a composite shank for added protection. The boot is waterproof.
Point Blank's new Advanced Warrior System (AWS) is a tactical armor system for law enforcement and soldiers. It accommodates SPEER and BALCS ballistics and is constructed of durable 500-denier Cordura. Features include side-opening design with internal side plate pocket, patented single-point release system, internal bottom-loading hard armor plate pockets, and a variety of options. AWS armor is available in black and five other colors.
The latest version of the Warrior is a high-lumen duty light called the Warrior Reloaded. Rechargeable, the light has three settings—30 lumens, 350 lumens, and 700 lumens—plus a high-intensity strobe. All this power comes from a combination of very efficient circuitry and a Cree XM-L LED. Machined from aircraft aluminum, the Warrior Reloaded is covered by PowerTac's lifetime warranty.
Propper's Covert Hoodie was developed to fit the demand for casual off-duty and undercover carry wear that doesn't scream "cop." Available in charcoal, black, and navy, the Covert Hoodie's kangaroo pockets have magnetically closed pass-throughs that allow officers to reach through and draw weapons. The inner material is warm, soft fleece. The outer material is a smooth, non-pilling fabric. Features include a pull-out ID or badge panel on the right arm.
Remington: Black Belt Duty Ammo
Remington Arms introduced Black Belt law enforcement ammunition in its Golden Saber line with loads for 9mm (including +P), .40 S&W, and .45 ACP. The Black Belt bullet features an hourglass shape and MechaniLokt belt that locks the core and jacket together. Remington added spiral nose cuts and a hollow-point cavity to the bullets for more predictable and reliable terminal performance through barriers such as wall board or heavy fabrics. The lead core of the bullet is mechanically locked to the rear of the bullet, which prevents jacket/core separation within the barriers, according to the company. The Golden Saber Black Belt ammunition features flash suppressed propellant and primers for minimal muzzle flash and nickel plated shell cases.
Using a short-stroke gas piston system, the SIG MPX can accept 9mm, .40 S&W, and .357 SIG rounds via proprietary 10-, 20-, or 30-round magazines. In full-auto mode, the MPX can cycle 850 rounds per minute. In look and feel, the MPX more resembles an AR-type rifle. This design choice was deliberate to ease training for officers trained on an AR rifle, according to SIG. SIG will produce four law enforcement-only versions of the MPX. The MPX includes a collapsing buttstock. A folding stock will be available as an option. The self-regulating gas system enables the feeding of a variety of ammunition, such as frangible, subsonic, or high-velocity.
Streamlight: High-Lumen Stingers
Streamlight showed a complete line of high-lumen patrol lights, including two new Stinger HL rechargeables. All of the new lights use C4 LED technology that provides three microprocessor-controlled variable intensity modes. The Stinger LED HL and the Stinger DS LED HL deliver a blinding 640 lumens on high, 340 lumens on medium, and 170 lumens on low. Runtime on high is 1 hour and 15 minutes; on the low setting, runtime is 4 hours. Each light is fabricated from aircraft aluminum with an anodized finish. The DS model of the Stinger LED includes a second, multi-function, push-button tactical tail switch. The Stinger LED HL and the Stinger DS LED HL are powered by a three-cell, 3.6-volt Ni-MH sub-C battery. The new Stingers fit existing model chargers.
SureFire's latest tactical light is a high-lumen model that will be available later this year. The rechargeable P1R Peacekeeper has dual output, producing 15 lumens for close-up work and blasting 700 lumens when needed. SureFire says the P1R Peacekeeper will feature a precision reflector that focuses its LED-generated light into a wide beam that can blind suspects and increase officers' situational awareness.
U.S. Armor: Enforcer 5000 Vest
U.S. Armor introduced the Enforcer 5000 vest, which offers a flexible, lightweight vest custom fitted for male or female officers. The Enforcer 5000, which meets the NIJ's 0101.06 testing standard, features neoprene side straps, paded shoulders, and a double-wide strap across the small of the back. Moisture-wicking material keeps officers dry. U.S. Armor also offers a female version with formed bust cups.
Related:
Video: SHOT Show 2013 Highlights