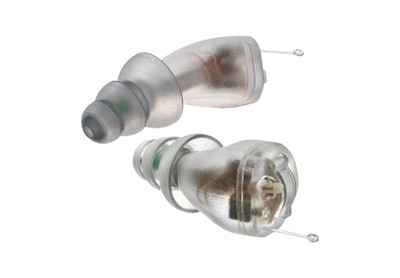 Good hearing protection is a must for people who like to shoot. Foam plugs and plastic earmuffs work well, but both reduce natural hearing and the earmuffs tend to make getting a proper cheek weld on a rifle difficult. That's why I wanted to test Etymotic Research's EB15-LE BlastPLG electronic earplugs.
These plugs have a noise reduction rating of up to 40 decibels, which means on low mode they take the sting out of gunfire and other sharp impulse noises. Switch to the high mode and sounds are amplified up to 5X for crystal clear, high-definition hearing.
One of the most innovative features of the EB15s is what Etymotic calls "adaptive attenuation." This feature lets the electronic earplugs gradually and automatically adjust to continuous loud noises such as crowd noise, sirens, and continuous gunfire. The end result is clearer hearing for the wearer.
EB15s come in a hard plastic clamshell for storage and protection, along with a thin nylon cord to connect the two, and seven different pairs of earpieces. They also come with replacement filters and a tool that helps the user remove the earpieces.
The variety of earpieces included with the EB15s is impressive and it allows each user to custom fit the plugs. I settled on a set of grey silicone tri-baffle tips that combined the best combination of comfort, ease of use, and noise reduction. Etymotic does not provide protection ratings for each specific earpiece, but I found that some worked much better than others.
On the low setting I noticed during normal speaking that the volume seemed to be slightly diminished and ambient noise was all but canceled. The high setting was like having superhero hearing. Unlike other electronic hearing devices, which usually contain a lot of white noise—like someone turned the volume up too high on a set of headphones, the EB15s provide clear and very clean sound. The constant background noise seemed to be canceled out and what remained was sharp and defined. This would be a great feature for everyone from tactical teams to a patrol cop on a walking beat.
After I had my fun with the noise enhancement feature, I decided to change gears a bit and give the noise cancelation feature a try. I decided to go for broke right out of the gate and do some pistol work in our indoor shooting range. Enclosed space with poor sound insulation makes for a lot of noise, even out of a pistol.
I started with the EB15s on low and fired a couple of rounds. The noise reduction was better than I had expected but the blast could still be heard. What seemed to be gone was the sharp crack, replaced by what sounded like static. I switched to the high mode and fired a few more rounds. This time the blast was very noticeable and the sharp crack was more than I was comfortable with. This may be partially due to the initial blast, the residual sound bouncing off the walls or both. Either way I wouldn't recommend these for indoor shooting.
On the outdoor range the EB15s did a good job of reducing the pistol report to a manageable level on both settings. I also found them to be very effective as an instructor on a rifle range. As long as I wasn't the guy shooting, the Etymotics reduced the blast enough to be manageable. The biggest benefit was not having to take them off to hear other instructors or students. I put them in first thing in the morning and didn't take them out until we ended our session around lunchtime.
I would strongly recommend EB15-LE earplugs to firearms instructors, tactical operators, or officers looking to enhance their hearing with a device that can be worn comfortably all day. As shooting range hearing protection they worked OK, but if I didn't need the hearing enhancement feature, I would likely stick to a set of foam plugs. The EB15s have a price tag of $499, which is a bit steep, but they are of excellent quality and should last you a very long time.
Etymotic Research EB15-LE Electronic Earplugs Specs:
In-ear design
Dual mode switch
40 dB reduction of sharp noises
15 dB adaptive attenuation
Includes batteries and seven earpieces
Price: $499
A.J. George is an officer with the Scottsdale Police Department currently assigned to the advanced training unit as a firearms and tactics instructor.