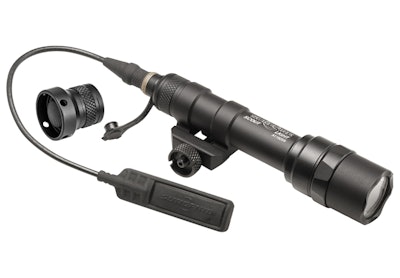 At first glance the new M600 Ultra Scout doesn't look much different than the original SureFire Scout. The body, mounting bracket, tailcap, and pressure switch remain unchanged. And like its predecessor, the Ultra Scout is constructed of hard anodized aircraft aluminum with O-ring and gasket seals for water resistance. There really isn't much difference until you turn the Ultra Scout on.
The previous model had a maximum output of 120 lumens, the new one produces 500 lumens. That means the new Ultra Scout cannot only clear a room, but also light up a target at 100 yards. Better yet because of improved energy management, the Ultra Scout offers a runtime of more than 1.5 hours on two CR123A batteries.
I was pretty excited to get my hands on the new Ultra Scout for testing and had it mounted on my rifle before the packaging hit the floor. After nightfall, I cleared my way through my house several times. The difference in light output was vast, even to the point that the Ultra's 500 Lumens were actually too much in some confined spaces. Projected on a light-colored surface, the amount of "light splash" is enough to really mess with your vision and wash out potential targets. Because of this concern, I would recommend running with the light constantly on as much as tactically possible while clearing rooms. This will reduce the amount of adjustment your eyes will have to do and keep your vision sharp.
Outdoors this light is a game-changer. I've run more than a couple of rifle schools where I found myself wishing I had a more powerful light at distance. The Ultra is the answer to that wish. The beam is tight and clean and will illuminate targets a long way off. I paced out 100 yards and was easily able to illuminate a man-sized target at that distance and beyond.
Considering the fact that my original Scout is still running strong after several years of abuse I have to assume the Ultra is no different. These lights are professional grade; they're tools, not toys. If you ever do have a problem with a SureFire name, they offer a 30-day money back guarantee and an excellent limited-lifetime warranty.
The Ultra Scout carries an MSRP of $429 and is available in your choice of black or desert tan. If your profession involves carrying a rifle, there is no reason it shouldn't have a Scout light mounted on the end of it.
SureFire M600 Ultra Scout Specs:
Maximum Output: 500 lumens
Length: 5.5 inches
Bezel Diameter: 1.1 inches
Weight: 5.6 ounces
Batteries: Two CR123A
Runtime: 1.5 hours on max output
Construction: Aircraft aluminum with O-ring
Features: High-performance, recoil-proof LED, Total Internal Reflection lens, ergonomic tactical switching on tailcap switch or pressure activated tape switch (included), available in black or desert tan
Price: $429
A.J. George is an officer with the Scottsdale Police Department currently assigned to the advanced training unit as a firearms and tactics instructor.