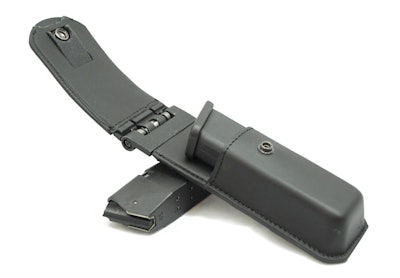 DutySmith has made a name for itself as a duty gear innovator with its SpeedSet line created to alleviate officers' back and leg pain. Now the company is tackling the traditional form and function of duty belt pouches with its new StreetForce line.
Developed in partnership with veteran trainer Officer Robert Hindi of the Las Vegas Metro Police Department, all StreetForce holders are designed for officer safety.
"Our reason for being is to produce solutions for officers in the duty gear space," says Michael Fineberg, DutySmith's vice president and general manager. "There are certain problematic issues with the gear that everyone is using, but you learn to train around them," says Fineberg.
For example, most law enforcement officers devise an awkward hand movement to keep a pouch flap open while removing a mag. It often requires using multiple fingers or even a second hand to provide clear access. To remove this dangerously complicated step, DutySmith engineers devised a spring-activated "pop‐up, stay‐open, and easy-close flap" that automatically flips up when unsnapped by officers. This also makes it easier for officers to reholster a piece of gear in its holder.
"Materials used for this line are a little thinner so the holders are more lightweight and ergonomic, but they're pretty standard," says Fineberg. "It's our use of the materials that's unique."
StreetForce holders feature belt loops that span their entire width for a secure fit to the duty belt that provides added stability. Narrower stitching around each item takes up less space on the duty belt, allowing for better positioning and access, which are important aspects of Hindi's training philosophy. His focus on improved deployment for officer safety and efficiency is reflected in the design.
A plastic raised grip tab centered on the edge of the StreetForce holder flap makes getting your fingers under the flap much easier, solving another major problem for officers. The plastic is easy to feel and grab—even with wet or gloved hands—and it won't wear away over time like other materials. Part of this plastic piece that's securely sewn into the flap creates a smooth ramp for a snag-free interior. This prevents a magazine catching on the snap during deployment, which solved another one of Hindi's pet peeves and safety concerns.
Of course, you can't remove an item if you can't grasp it securely to begin with. Easy-grab notches located on the sides of the holder give greater fingertip access space to the equipment for reliable deployment and control, according to the company.
Improvements made to these holders' form and function translate to improved officer safety. "These new ergo‐tactical designs provide officers with the safest, fastest, most efficient means to deploy their force equipment," says Hindi.
Because they are so easy to open and close, StreetForce holders also help facilitate switching from one piece of equipment to another. For example, an officer can retrieve OC from its holder, use it on a suspect, put it back in the case when done, and pull out handcuffs to restrain the person all in quick succession, and all by feel.
"You don't want to take your eyes off of the suspect to look at your belt and you shouldn't have to fumble to get your next mag pouch out if you're stuck in a close-quarter situation and someone is shooting at you," Fineberg says. "With StreetForce you don't have to."
Items currently available in the StreetForce line include single and double mag pouches in all the most used sizes, small and large OC pouches, a baton holder (without a flap), a radio holder for standard Motorola models, and single and double handcuff holders. They can be ordered in December for February delivery.
All StreetForce holders are made to fit any standard duty belt and are available in plain, basketweave, and nylon finishes. DutySmith plans to release additional holders and accessories as well as belts in the line throughout 2014.