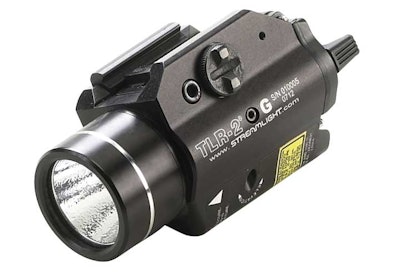 Streamlight's line of TLR weapon lights is ever evolving and new models are added almost daily. The TLR series has come a long way since the plastic, incandescent M3 hit the market years ago. Today's TLRs are made of machined and anodized aircraft-grade aluminum with super bright LED filaments, and have established themselves as the gold standard for weapon mounted lights. The new TLR-2G is one of the best and brightest.
Streamlight's TLR-2G incorporates a single C4 LED in a shock-isolated bezel that's good for 50,000 hours of runtime. Powered by two lithium CR123 batteries, the TLR-2G has a light output of 200 lumens and 6,300 candela. That translates into a light as powerful as a full-sized handheld but designed to be mounted to a pistol. It provides more than enough illumination to clear a building or identify a threat in the darkest conditions. There's even a strobe feature. Additionally, this super bright little light comes complete with a green laser sight that can be "zeroed" to the weapon with adjustable windage and elevation set screws.
You can operate the light and laser independently or together; select each of the three modes via a small toggle switch at the rear of the housing that is accessible while holding the weapon in a firing grip. Just above the toggle is the main activation rocker switch; momentary-on to the left, constant-on to the right.
Weapon mounting is a breeze with the spring-loaded rail clamp system. Like all other TLRs, the 2G comes with a variety of nylon inserts that can be swapped out, allowing you to mount the light securely to a variety of different pistol designs. If you have a standard 1913 Picatinny rail there's one for those too. Once the light is on the gun, simply tighten the thumb screw and it's not going anywhere.
For duty use the TLR-2G is hard to beat. It will fit most modern service weapons and there are a variety of duty holsters designed to fit around it. As with all Streamlight products, the quality is top notch and all the company's weapon lights come with a limited lifetime warranty. In our line of work every weapon should have a solid light and the TLR-2G is a fantastic option.
Streamlight TLR-2G Weapon-mounted Light Specs:
Dimensions: 3.39 x 1.47 x 1.83 inches
Weight: 4.58 ounces with battery
Light Source: C4 LED technology; highly visible 522-542nm green laser
Output: 6,300 candela peak beam intensity and 200 lumens
Runtime: 1.5 hours LED only; 1.25 hours Laser/LED; 9 hours Laser only
Switch: Ambidextrous momentary/steady on-off switch; three-position mode selector switch
Battery: One 3V CR123A lithium battery (included)
Price: $550