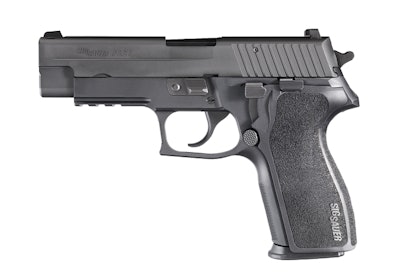 According to several knowledgeable sources in the firearms and ammunition industry, there is a new trend in law enforcement handguns in which some agencies and some officers are moving away from the .40 S&W cartridge and returning to 9mm and .45 caliber service pistols. When it was introduced the .40 was seen as a "perfect compromise" that provided superior on-target performance over the 9mm and was "almost" as good as the .45.
There are a number of reasons for this switch in caliber allegiance.
The most prominent is the .40's high level of recoil—especially in lightweight polymer frame pistols—which has proven problematic for some officers, resulting in lower qualification scores.
Another reason that some agencies and officers are rethinking the .40 is the improved performance of the new breed of 9mm and .45 ACP cartridges. In the case of the 9mm these new loads have narrowed (some say closed) the performance gap with the .40. In the case of the .45 ACP—whose performance all other pistol cartridges have striven to equal since 1911—the effectiveness of the new high-performance loads now available has moved the bar up even further for potential contenders.
Making a Contender
SIG introduced the .45 caliber P220 in 1977 and an improved version remains in the company's catalog today and has seen use by several law enforcement agencies. While an excellent handgun, in a handgun market dominated by high-capacity pistols, some feel that the P220 has one shortcoming, an eight-round magazine.
Several of SIG's competitors for the police market offer .45 pistols with higher magazine capacity. The Glock G21 and Springfield XD(m) both have 13-round magazines; the S&W M&P, Heckler & Koch HK45, and Beretta Storm feature 10-round capacities; and the FNH FNX-45 holds 15 rounds.
If SIG was to capture a larger share of this market it needed to offer a high-capacity .45 pistol. And that's just what it did earlier this year when it released the P227.
The P227 is available in three models: Full Size, Carry, and SAS (SIG Anti Snag). The Carry and SAS models have overall lengths of 7.1 inches, barrel lengths of 3.9 inches, and empty weight of 30.5 ounces. In addition, the SAS has all edges and sharp corners beveled and dehorned and features SIG's Short Reset Trigger (SRT).
At first glance the P227 looks…well, like a SIG. In fact its external dimensions differ little from the popular P226. And like the P226 it uses a machined steel slide and a lightweight alloy frame.
The P227's slide has a squared-off profile with sharp cut grasping grooves that provide a firm grip when racking the slide to load or clear a malfunction. Front and rear dovetail cuts allow easy removal and installation of different styles of sights, while a large ejection port and rugged extractor ensure that spent cases get out of the way reliably.
The alloy frame has wraparound polymer grips with a skateboard tape-type texture that along with fine checkering on the front strap and (for those who favor that style of grip) the front of the hooked trigger guard ensures a secure purchase even with wet or oily hands or when wearing gloves. A serrated slide release is located above the left grip panel.
While the P227 has an external hammer, in place of any type of manual safety, there is a hammer decocking lever at the top of the left grip panel where it can be manipulated easily by the thumb of a right-handed shooter without changing grip. Left-handed shooters can manipulate the decocker and slide release with their trigger fingers, but this does require moving the pistol around in your shooting hand.
In addition, the pistol has an automatic firing pin safety block, safety intercept notch, and a trigger bar disconnector, all of which require a full stroke of the trigger to overcome.
SIG pistols are unique in that the slide reciprocates on full-length frame rails, which provide complete support for the slide during movement for improved reliability, slide/frame lock-up, and accuracy.
Double Column
The P227 uses a traditional DA/SA trigger. On the pistol I received, there was an 11-pound DA pull, which is a bit higher than factory specs, but the SA pull was spot on at 4.4 pounds. The trigger reset was short and could be felt but an audible "click" would be helpful when making slow, precise shots.
Now we get to the gist of this report, the magazine. The P227 uses a double-column magazine that holds 10 rounds of .45 ACP. Because of this the grip is wider than that of the P220 but the same size as the P226. In fact, the P227's external dimensions are almost identical to the P226, which allows the use of many P226 holsters and magazine pouches. Also to surpass most of the competition, SIG offers the option of an extended 14-round magazine for the P227.
Another nice feature is that the bottoms of the grips are extended and beveled to form a magazine well funnel that ensures smooth, snag-free reloads.
Shooting Drills
Using ammunition supplied by Remington, Hornady, Black Hills, and Federal, I test fired the P227 from a rest at 25 yards. The pistol printed to point of aim and I was able to produce well-centered groups ranging from 2 inches to 3.5 inches in size.
I then belted on a Gould & Goodrich Belt Slide holster and ran the P227 through the following series of offhand drills:
• At five yards, draw pistol and fire five rounds on target's "head" with an unsupported (one-handed) grip.
• At five yards, draw pistol and fire five rounds on target using supported grip.
• At 10 yards, draw pistol and fire five rounds on target. Reholster and repeat three times.
• At 15 yards, draw pistol and fire 10 rounds on target, slow aimed fire.
The Gould & Goodrich Belt Slide holster positioned the pistol for a smooth draw. It would be my choice if I were to use the P227 for concealed carry.
Except for the first round fired in DA mode at the head, all the .45s I sent downrange went just where I wanted them to. Recoil control and the pistol's ergonomics allowed fast, accurate follow-up shots.
The location of the slide release took a bit of getting used to, but aside from that, the only complaint I can voice concerned the magazines, which proved a bit of a trial to load to capacity. A magazine loading tool is a good idea when loading this high-capacity .45.
I did not experience a single malfunction with the pistol despite the fact that I discovered when I cleaned it after hundreds of rounds that there was not a drop of oil on it.
For those officers, or departments, who feel a .45 ACP caliber service pistol would best suit their needs, I believe the new SIG Sauer P227 might be just what you're looking for.
Paul Scarlata has served as an auxiliary police officer and is a frequent contributor to POLICE.
SIG Sauer • P227
Caliber: .45 ACP
Capacity: 10 rounds
Overall Length: 7.7 inches
Barrel Length: 4.4 inches
Weight (unloaded): 32 ounces
Height: 5.5 inches
Width: 1.5 inches
Construction: Steel slide; alloy frame
Finish: Slide: Nitron; Frame: Black anodized
Magazine: Double column
Trigger: DA/SA
Sights: Front: White dot; Rear: Square notch with white bar
Grips: Wraparound polymer
Extras: Accessory rail, spare magazine, extended 14-round magazine (optional), SIGLite night sights (optional), cleaning rod, padded carrying box, cable lock, owner's manual
Price: $993 ($1,085 with night sights)
Shooting the SIG Sauer P227
AMMUNITION GROUP (inches) VELOCITY(fps)
Remington 185-grain Gold Saber 2.8 947
Hornady 220-grain +P Critical Duty 3.0 962
Federal 230-grain Hydra-Shok 2.8 879
Black Hills 230-grain FMJ 3.3 792
Note: Group size is the average of three, five-shot groups fired from an MTM K-Zone rest at 25 yards. Velocity is the average of five rounds measured 10 feet from muzzle.