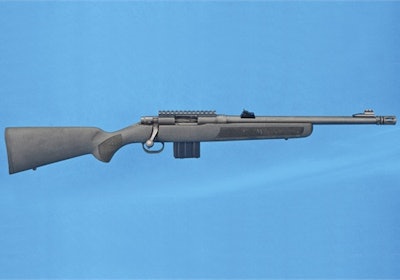 Although Mossberg is known best for its shotguns, the Connecticut-based gunmaker has been making rifles for a while, and the quality of those rifles is every bit as good as Mossberg's trusty scatter-guns. One of the newest additions to the Mossberg rifle line is the MVP series of lightweight 5.56mm models.
Mossberg sent me an MVP Patrol edition not too long ago and I wasted little time getting it out to the range. But before I discuss that portion of my "MVP experience," let's take a close look at the gun and its features.
Initial Impressions
When I picked up the Mossberg box from my FFL, I thought he was pranking me and the box was empty. This thing is that light.
I pulled the rifle out of the packaging and snapped it up to my shoulder. The MVP sports a heavy-profile barrel for rigidity and increased accuracy. This is the bulk of the weight of the gun, as the stock and action feel like nothing at all. In fact, I initially had concerns about the thin profiled polymer stock being inadequate on a gun designed for duty use. But I tabled those concerns and decided only range time would tell.
The MVP is a bare-bones rifle; its only accessory is a 10-round detachable magazine. It is a simple gun, and I think that's exactly what Mossberg intended it to be.
Bolt-Action
The MVP is a no frills bolt-action rifle chambered for a 5.56mm/.223 round. It has a 16-inch cold-hammer forged, heavy profile, 1/2x28 threaded barrel with an A2 flash hider similar to those on many AR-15s. The heavy profile and relatively short length make for excellent rigidity; a critical component when it comes to accuracy. The A2 flash hider helps reduce muzzle signature, and since it is threaded, the barrel will accept a variety of muzzle devices and suppressors.
As mentioned, the stock is a one-piece polymer design, similar to those found on most hunting rifles, with a thin comb, rubber buttpad, good knurling on the firing and foregrips, and two standard sling-swivel studs. It is simple, light, and very utilitarian. There are no adjustments that can be made and therefore there is nothing to break or come out of adjustment. This isn't a sniper rifle so I didn't find myself wishing it had more bells and whistles.
This rifle's bolt and action are Mossberg's patent-pending MVP Drop-Push design. The bolt is fluted for weight savings and designed to feed from any standard AR-15 magazine, something uncommon in the world of bolt guns. The bolt handle is short and typical of most out-of-the-box bolt rifles. The knob at the end is small yet functional and provides adequate knurling for grip. As for the action, it is what I would call a "long-action, as the extra clearance needed for the AR-15 magazine requires a bit more cycling distance.
The MVP Patrol comes with a set of iron sights already installed for those who want to keep things as light and simple as possible. The front sight post is fiber optic and glows brilliantly in day or low-light conditions. Set about 14 inches back from the front, the rear sight is a notched blade that is adjustable for both windage and elevation via a sliding block with a set-screw. There are no incremental adjustments here, and the sight has to be manually adjusted using the reference marks on the blade and base. This isn't the most accurate way to do things, but once you get it zeroed and tighten the screw, you shouldn't need to worry about it going anywhere.
Now for the star of the show, the trigger. Mossberg blessed the MVP with its patented Lightning Bolt Action adjustable trigger. This is essentially a two-stage trigger with a center blade providing the first stage pull and a built in trigger safety, similar to the style of trigger found on all Glock pistols. Once the center blade is depressed the shooter's finger comes into contact with the main trigger, or second stage, and the press is positive and crisp with almost no creep. I estimate the weight of pull at about 3 to 3.5 pounds; typical of most precision rifles.
I dry-fired the MVP a few times to get the initial feel of the trigger and was immediately impressed. The trigger is on par with some of the better match-quality rifles I've shot, most costing thousands more than the MVP and requiring delicate gunsmithing work. Well done, Mossberg.
Zeroing In
I began my range time with the MVP as it came in the box. No added optics and no aftermarket magazines. I lubricated the bolt, loaded it up, posted a target, and went to work.
For testing purposes I chose a few different rounds of ammunition, some practice grade and some match grade or duty quality and what I had on hand at the time. The practice rounds were Winchester 55-grain .223 and Federal XM193 5.56mm NATO. The duty rounds were Hornady 55-grain TAP ballistic tip, Federal Tactical Response Urban or "TRU" 55-grain boat-tail hollow point, and Black Hills Sierra Matchking 69-grain boat-tail hollow point.
My first matter of business was getting the rifle zeroed. I chose a 50-yard zero for the MVP as most 5.56mm/.223 rounds I'm familiar with have a double zero flight pattern in the 50- to 225-yard range. This makes holdover easy and is within the engagement distances found in the overwhelming majority of police shootings, sniper shots included. Beyond that range, the .223 bullet is just too light to hold a group and perform reliably anyway.
I centered the rear sight as best I could to achieve a mechanical zero and hopefully get on paper at 50 yards. I got into the prone position and fired a methodical five-shot group with the XM193 practice ammo. The sight picture through the MVP's iron sights was clean and clear but the front sight post is wide and made precision alignment difficult, as it obstructed a significant portion of the target. I focused as hard as I could and managed a respectable 1-inch group, albeit about a foot to the left of my point of aim.
Here's where my frustrations began. I loosened the set-screw on the rear sight only slightly, just enough to wiggle it. I didn't want it sliding freely, as I would never be able to make fine adjustments that way. Then I added what I thought would bring the point of impact closer to zero and fired another five-shot group. Needless to say, I made progress but still had some adjusting to do. I repeated this process five more times before I was able to get the rifle close to zero. I contemplated trying again but with the lack of positive, incremental adjustments, I knew I'd likely never get it perfect. When I was done the MVP printed about an inch right of my point of aim and the rear sight was slid almost all the way to the left side of the assembly. It didn't appear to be damaged, bent, or installed incorrectly, so I have to chalk it up to these being the kind of sights reserved for close distance or as an emergency backup to an optic. I know this is a no-frills rifle but a better set of iron sights would be a really nice addition.
At this point I decided I had had enough with the iron sights and moved on to an optic to test the rifle's true accuracy potential. Bushnell was gracious enough to loan me one of the newest additions to its Elite Tactical line of riflescopes, the 1-8.5x24mm SMRS (Short/Mid Range Scope). The SMRS came with Bushnell's illuminated BTR-2 reticle, a 34mm tube, and 0.1 Mil adjustments. I had a set of Bushnell high rings handy and mounted it to the MVP's existing Picatinny rail. I won't bore you with the details, but thanks to the SMRS's exceptionally clean optics, crisp reticle, and super-positive adjustments, zeroing the glass was a much easier task and after only 10 rounds I was dead center. I've reviewed Bushnell's Elite Tactical line in the past and am consistently blown away by the quality.
Crisp and Consistent
Now that I had the MVP properly dialed in, I moved back to the 100-yard line for some precision work. I posted one of my Tru-Glo targets on a clean white paper background to give myself an optimal sight picture.
It had been about 45 minutes since I last fired the MVP so I knew I would get a good "cold-bore" shot at the beginning of my group. I loaded up with the Black Hills 69-grain rounds and placed a five-shot group as best as I could in the center of the Tru-Glo. Walking down range to check my hits I was pleasantly surprised. I was skeptical of the cold-hammer-forged barrel's potential, but including my cold-bore shot, the group measured in at about 1.25 MOA (1.25 inches). Excluding the cold-bore shot the MVP held about a 1.0 MOA group. Surprisingly I saw similar results with all of the ammo I shot, including the practice rounds. Most precision guns are finicky when it comes to what you feed them and I was pleased the Mossberg was not.
Throughout the firing process, I was careful to note the amount of effort it took to not only shoot the gun but manipulate it as well. The MVP's action is what I would consider loose, as there is significant play between the receiver and the bolt. The few initial cycles were gritty and difficult, but it became noticeably smoother over time. I would assume that a few hundred cycles would get it to an acceptable working level. The factory magazine seated very positively and, although it was certainly a conscious task, didn't require too much effort to lock it into place. The release was equally positive and the magazine dropped free every time. I swapped it out for a Magpul P-Mag and a standard steel Mil-Spec magazine and both worked reliably. However, the Magpul required a little added effort to seat.
As I said before, the trigger is the real star of the show here. And every time that fantastic little trigger broke it was crisp and consistent and brought a smile to my face.
The shooting day over, I stripped my gear and killed a bottle of water as I sat pondering the purpose for Mossberg's MVP.
This rifle has some strong pluses. It is small, light, and easily carried in a vehicle or pack. It will accept a suppressor, standard AR-15 magazines, and a variety of optics. It shoots straight and has the kind of fantastic trigger almost never found on a sub-$700 gun.
But in a market dominated by accurized, semi-automatic AR-15 variants, the MVP's capabilities and accuracy simply don't stand out. It is accurate, don't get me wrong, but so are its competitors and they all have a much faster rate of fire.
So what purpose does it serve and, more importantly, what need does it fill? Here is what I came up with.
If you're looking for an accurate, out-of-the-box gun to carry in a truck or other "in case of emergency" scenarios, the MVP would work well. If you want a dedicated suppressed rifle that can be easily carried in a pack and will shoot true inside 100-yard engagements, this is the ticket. Or if you're a LEO on a budget and want the reliability of a bolt-action rifle with the versatility of an AR-15-magazine-fed, 5.56mm/.223 caliber rifle, the MVP would serve this duty with distinction. Oh, and did I mention the MVP is available for an MSRP of 681 bucks? Try to find that in an AR-15.
A.J. George is a sergeant with the Scottsdale (Ariz.) Police Department currently assigned to the advanced training unit as a firearms and tactics instructor.
O.F. Mossberg & Sons MVP Patrol Rifle Specs:
Caliber: 5.56MM NATO/.223 Remington
Capacity: 11 rounds
Weight (empty): 7 pounds
Overall Length: 35.25 inches
Length of Pull: 13.25 inches
Barrel Length: 16.25 inches
Twist: 1:9
Finish: Matte blue
Stock: Black textured polymer
Price: $681