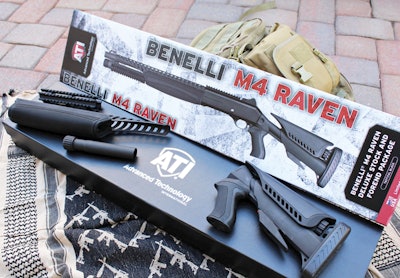 Because of the shotgun's increasingly diverse role, the aftermarket accessory industry is just as diverse. Advanced Technology International (ATI) recently focused its attention on one of the arena's heavy hitters, the Benelli M4 semi-automatic shotgun.
Due to their increased cost and relatively new design, the aftermarket accessory options for Benelli's flagship are somewhat limited. ATI has changed all of that with one complete package, the ATI Raven Deluxe Stock and Forend Package.
Although each piece can be purchased separately, the ATI Raven kit addresses all of the areas most often altered or customized by shotgun operators: the stock, magazine tube, mag follower, and forend. We'll start in the back and work our way out to the business end of the M4.
Made from high-strength polymer and 6061-T6 aircraft-grade aluminum, the ATI stock offers six incremental adjustments for length, similar to that of an M4 rifle, and an infinitely adjustable cheek rest. The buttpad and cheek rest are both covered with soft rubber recoil pads to mitigate the shooter's felt recoil. Also incorporated into the stock is an improved and patented Scorpion pistol grip, offering advanced ergonomics and a soft-textured rubber coating to increase comfort and reduce hand fatigue. Between the stock and receiver is a reversible sling attachment plate.
The magazine tube extension and improved follower increase the capacity by one round and provide added feeding reliability. Both parts are military anodized aluminum for maximum service life. The kit also includes a polymer overmolded forend grip and integrated barrel heat shield to increase grip and comfort.
The magazine tube tri-rail piece is likely the most requested and versatile of the ATI Raven's offerings. Like the rest of the ATI Raven kit, the tri-rail is also constructed of Mil-Spec anodized T6061-T6 aircraft-grade aluminum and offers three large Picatinny rail sections at the 3, 6, and 9 o'clock positions.
ATI's Raven kit requires armorer-level expertise to install properly so if you're not a Benelli Armorer, protect your investment by having one install it for you. As I went through everything in the package, carefully inspecting and manipulating each piece, I was truly impressed by the design and craftsmanship. For a package price of $549.99, you're getting a lot of bang for the buck.
A.J. George is a sergeant with the Scottsdale (Ariz.) Police Department currently assigned to the advanced training unit as a firearms and tactics instructor.
ATI Raven Benelli M4 Stock and Forend Package Specs:
922R Compliant Parts: Stock, pistol grip, forend, mag tube (6 +1), mag follower
Manufactured in the USA
Limited lifetime warranty
Fits Benelli M4 Shotguns with 18.5-inch barrels
Price: $549.99