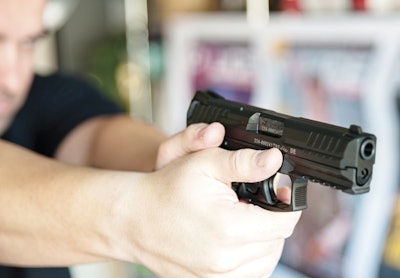 Heckler & Koch recently jumped into the striker-fired, polymer-framed gun pool with the release of the VP9 pistol. A close cousin of the tried-and-true P30 series of HK pistols, the new VP9 ditches the external hammer for an internal striker. This is the first striker-fired pistol HK has sent to the market since the famous P7 "squeeze-cocker" made its debut in the 1980s.
The VP9 takes the best of HK's pistol heritage and adds the best of what a trusty polymer-framed, striker-fired pistol has to offer. Honestly, I think they've improved on a few things as well.
It Has Wings
My POLICE test and evaluation VP9 arrived packed securely in a solid, foam-lined case complete with two high-capacity magazines and several interchangeable backstraps and palm swells (more on those later). The usual paperwork and a gun lock were in there, too.
Right out of the box the VP9 comes with just about everything you need to hit the road except a holster, ammo, and weapon light. No need for pressing on night sights or sending it off to the gunsmith to add forward cocking serrations, additional M1913 rail space on the frame, or even grip enhancements.
The VP9 has three-dot night sights that are made of non-radioactive luminous material. They glow brightly and are easily picked up by the shooter in low light. If you decide you're not a fan of these (and I thought they were great) the VP9's slide is dovetailed nicely to accept most standard aftermarket iron sights.
Moving down the slide the VP9 features a set of well-defined cocking serrations front and rear. I found these to be extremely functional even with gloves and sweaty hands yet not overly aggressive where they'd chew up a holster.
At the rear of the slide, just behind the cocking serrations and under the rear sight, is something I've never come across on any handgun—a set of polymer "wings." At first I thought they were a little strange and unnecessary but after many, many slide manipulations I found these wings to be extremely useful, especially when running the slide on a piece of gear during single-handed injured officer drills. The wings are prominent enough to provide a solid grip point without getting in the way, and they're replaceable if you chew them up. Bravo, HK.
Forward of the trigger guard is a nice segment of 1913 rail for mounting lights, lasers, or whatever gadget you might need to enhance the VP9's abilities. While almost all contemporary law enforcement and military pistols feature a mounting point, many offer a single position that requires a certain size of insert. If you've picked up a Streamlight TLR or similar light system designed for a pistol, you'll know what I mean. The VP9 doesn't require anything special and allows for mounting anything made for a MIL-STD-1913 rail. The four slots allow the shooter to adjust the location of the accessory forward and aft for the best individual fit. I fitted mine with a TLR-1 and was able to torque it down nicely with no noticeable compression to the polymer rail. The addition also didn't affect my point of impact, something commonly experienced by many polymer pistols.
But the real star of the show here is the VP9's grip. Every shooter has a different size and shape of hands and definitely a different way of gripping a gun. No single pistol grip is going to suit everyone. That's why the VP9 offers three different sizes of palm swells and backstraps. There is a single roll-pin at the base of the grip that secures them in place. Easily driven out with a few taps of a punch, the pin releases the backstrap and allows the palm swells to be slid out and swapped for any combination of the three included sizes.
True Ambi Controls
The VP9's frame is full polymer with a true ambidextrous slide lock and magazine release. So no matter how you run your gun, there is a solid and easily manipulated lever within easy reach. While running the slide lock, I found it to be very positive and easily reached from both sides of the gun. As a lefty I am used to using the side of my trigger finger to push up on the slide-lock lever, and the same movement I've been practicing for years worked like a charm on this pistol. I made a point to use the right side slide lock and was able to reach it easily with my thumb while keeping a good firing grip on the gun.
The magazine release is classic HK, a single-piece, double-sided lever located at the rear of the trigger guard. HK's mag release placement is a departure from the competition, but it has its benefits. This placement keeps the mag release button off the grip to virtually eliminate unintentional mag drops. Note: If you're not used to this mag release placement, it will take a good amount of training for you to become comfortable and reflexive with it. After many hours of shooting, I still found myself searching for the release on the left side of the grip. Almost 20 years of training isn't going to be undone with a few hours on a new system. Additionally, I found the location of the magazine release difficult to reach without giving up my shooting grip and turning the gun in my hand. I consider myself to have normal-sized hands, so I wouldn't be surprised if the majority of shooters experience this same problem.
Running the Gun
While evaluating all of the features and controls of the VP9, I was cranking many, many rounds down range. I picked a couple different 9mm rounds for my testing portion of this review, including two lead-free frangible rounds currently in use on my agency's lead-free indoor range. The rest were a mix of 9mm ball ammo and duty grade or home defense rounds. In no particular order, they were: SIG Sauer Elite Performance 124-grain JHP, CCI Blazer 115-grain FMJ, Hornady Critical Defense 115-grain Flex Tip, Winchester Ranger 127-grain +P+ JHP T-Series, Fiocci 100-grain Sinterfire Frangible, and SinterFire Greenline 90-grain Frangible.
I started out with the two frangible rounds because I wanted to see if they'd cycle the gun reliably. I put about 200 rounds through the gun over the course of 45 minutes and, although the gun felt great in the hand, the frangible ammo just didn't cycle the gun reliably. After a handful of malfunctions, I concluded the pressures were simply too low to fully cycle the slide and I was getting a multitude of stovepipes or failures to eject. I blame the ammo, not the gun, as frangible ammo is known for being the underpowered root of many a malfunction. I packed up and moved outside to get some real rounds under the VP9's belt.
Beginning with the CCI Blazer, I started running the gun hard to see how it would hold up under a high round count and to get in as many manipulation repetitions as possible. After another 200 rounds, the VP9 didn't skip a beat and, although it did get a little hotter than other guns I've shot, it performed admirably.
Magazines seated positively and dropped free every time. The trigger was smooth and had a very positive reset. With a claimed 5.4-pound pull, the VP9's trigger has no external safeties and instead relies on a series of "drop-safe" internal blocks along with a two-piece trigger safety to keep it from going bang when it shouldn't. The pull weight felt dead-on, and I was able to work the trigger with ease. For a factory trigger, I was quite impressed.
Moving along to the "duty grade" ammo, I kept my gunfighting style of testing in mind but now focused on felt recoil, accuracy, and the ability to keep the gun on target for follow-up shots. The low bore axis, superb fit of the VP9's grip inserts, and deep beavertail made for a dominating grip on the gun. Even with the high-pressured +P+ ammo, I was able to keep the sights on target and snap off follow-up shots quickly. Thanks to the three-dot sights, polygonal barrel, and smooth trigger, these shots were very accurate as well.
After a couple hundred trigger pulls, I was able to keep about a 5-inch group at 25 yards without too much effort. I'm sure the machine is capable of better but the monkey running it isn't.
At the end of the day the VP9 was easily broken down into its four major parts and cleaned up nicely. I didn't apply any lubrication to mine, and even after about 600 rounds down the pipe, it showed no signs of wear.
If you're looking for a new duty weapon, something to carry off duty, or just a great gun for killing paper at the range, check out the VP9. This pistol's performance is impressive and HK's quality and reliability are without question. If you're a civilian, HK offers a limited lifetime warranty. One year is standard for all law enforcement and military users. MSRP for the VP9 is $719, and dealers are stocking the shelves as you read this issue of POLICE.
A.J. George is a patrol sergeant with the Scottsdale (Ariz.) Police Department who also serves as the SWAT team's crisis negotiation supervisor.
Heckler & Koch VP9 Duty Pistol Specs:
Caliber: 9mm
Capacity: 15 rounds
Overall Length: 7.34 inches
Barrel Length: 4.09 inches
Sight Radius: 6.38 inches
Height: 5.41 inches
Width: 1.32 inches
Weight (empty): 25.56 ounces
Trigger System: Striker-fired
Trigger Pull: 5.4 pounds
Barrel Profile: Polygonal, six grooves, right-hand twist, 1:9.8 inches
Sights: Three-dot, non-radioactive luminous
Frame: Polymer
Price: $719