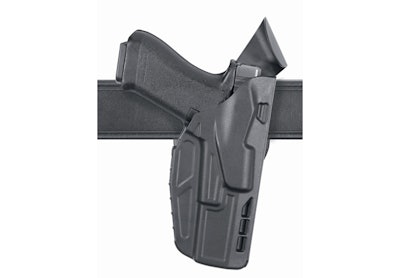 About a year ago Safariland introduced its most innovative holster to date, the 7TS. Made of a single piece of proprietary injection-molded polymer, the 7TS was truly the first of its kind and set a new standard for simple yet purely functional duty holsters. I was lucky enough to get my hands on one of the first to roll off the assembly line and have since worn it proudly for off-duty and plain-clothes carry. My only complaint? They didn't make a duty version capable of carrying my Glock pistol with an attached weaponlight.
Well, all of my wishing and waiting must've paid off because the new Model 7390 7TS ALS Mid Ride Duty Holster recently arrived at my doorstep. I wasted no time getting it set up on my duty belt.
First, so you understand why I think this holster is truly in a class of its own, here's a little about the 7TS. The holster body is made of a single piece of injection-molded polymer. It isn't kydex and it isn't formed around molds like most other holsters out there. Hot out of the press, the 7TS is folded in half and locks together to form the holster body. Safariland adds its incredibly slick ALS retention system and sends them out the door.
The real star of the show, however, is the polymer used to make them. Dubbed "SafariSeven," Safariland took its time developing this new nylon blend formula from DuPont that is not only incredibly durable and rigid, but also provides natural lubricity and wouldn't mar the finish of the firearm carried within. It may look like black plastic but once you feel it in your hands and execute a few draws you'll understand the difference.
Once I had the new 7TS set up on my duty belt I went to work as usual for the first of many patrol shifts. As we all know, our duty gear takes a beating. Getting in and out of the car a thousand times a shift, scraping against cinderblocks as you scale a wall, or scraping against the pavement in a fight all take their toll on the best duty holsters. Not to mention the hundreds of times you draw and re-holster your pistol. Checking your weapon before a shift, providing lethal cover during a crisis entry, and everything in between, your gun gets a workout and the last thing you want to do is fumble with your holster in the process. You want a secure holster that provides a smooth and fast draw every time. I'm happy to say the 7TS checked all of those boxes for me.
Available now for a wide array of firearm and weapon light combinations, the 7TS duty holster is truly a winner and one that will likely serve you well for many years of use and abuse.
SAFARILAND MODEL 7390 7TS ALS MID RIDE DUTY HOLSTER SPECS:
Proprietary nylon blend that is non-abrasive to a firearm's finish
Raised stand-off surfaces in interior of holster create air space around the weapon, allowing dirt and moisture to quickly clear any contact with the firearm
Can be submerged in water indefinitely and still maintain shape and function
Matte finish decreases reflection and can be maintained with a simple scouring pad
Compatible with all Safariland holster mounting options
Available for right- or left-handed shooters
Temperature Tolerance: -50 degrees Fahrenheit to 300° Fahrenheit
Colors: Black, flat dark earth brown
Finishes: Plain, XTX Tactical, XTX Plain
Price: $88.50–$103.50