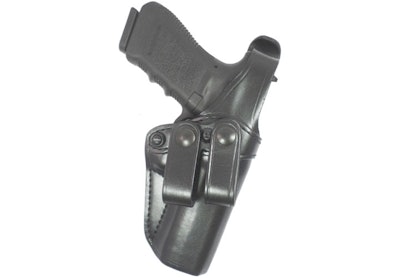 Regardless of how advanced holster technology gets, there will always be a place for a good, handcrafted leather holster. Gould & Goodrich has been pressing and stitching some of the finest pistol carriers around for a long time and their quality is rarely in question. Many of G&G's holsters have been serving proudly for years and only get better with age. Recently the company sent me one of its newest inside the waistband models for review, the "Gold Line B813" to be exact.
I'll be up front and honest with you; I generally prefer kydex over leather almost any day of the week. Leather, although it becomes softer and more comfortable over time, also loses its rigidity, making re-holstering difficult. In extreme situations, the leather will also lose its ability to protect the trigger and there have been reports, although rare, of a pistol going off while still in the holster. These are concerns that kydex just doesn't bring to the table.
However, this G&G holster seems to mitigate, if not alleviate, these concerns right out of the box. First of all, the construction is very stiff for a leather holster. The double-thick sidewalls and excellent laminated finish on the leather provide for a very rigid frame that allows for easy re-holstering. While the leather will likely soften over time, this increased stiffness from the start will likely delay the "floppy holster syndrome" significantly. There is also an adjustment screw at the back of the trigger guard that can be tweaked for optimum retention.
The main retention device is a traditional thumb break, although this one has evolved a few years beyond the traditional leather strap. The outer portion of the single-retention device is still leather, albeit the stiffer laminated leather I mentioned above. The inner portion is a very solid yet flexible polymer that allows the shooter's thumb to get a very positive wedge between it and the leather to clear the snap. The B813 is designed to accommodate several different pistols so the inner strap is three-position adjustable up or down via one hex-head screw for optimum fit.
Riding in a waistband, the G&G Gold Line B813 is just as comfortable as I would expect from top-quality leather gear. Its leather does a fantastic job at regulating body heat so the sweaty under-holster syndrome isn't a problem here. The belt attachment is via two side-by-side leather straps with snaps that take a little longer to secure, but once the holster is on, it isn't going anywhere. The belt attachment itself is secured to the frame of the rig with a single yet beefy hex-head screw that allows articulation for your preferred draw angle.
After a few weeks of wear in the Arizona summer the G&G Gold Line B813 still looks new and I'm sure it will stay that way for a long time. If you're like me and have shied away from leather I'd urge you to take a look at some of G&G's latest offerings. You might just leave your trusty kydex behind.
Gould & Goodrich Gold Line B813 Holster Specs:
Firearm Compatibility: Auto pistols from Glock, Smith & Wesson
Belt Size: Fits belts up to 1.75 inches wide
Material: Leather
Color: Black
Price: $87.55