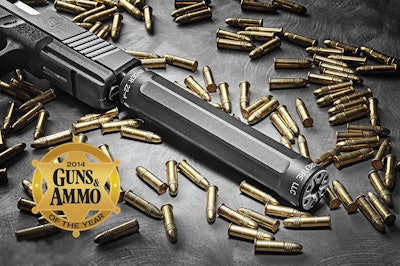 SureFire, LLC, manufacturer of high-performance illumination tools, suppressors and tactical products, has been awarded the first ever suppressor of the year award for the Ryder .22 from Guns & Ammo magazine.
"Suppressor use is quickly gaining wider acceptance for its inherent safety benefits and the joy it brings to people who use them," said Eric Poole, Guns & Ammo Editor. "Combine a new lightweight suppressor design optimized for America's favorite rimfire and you have Guns & Ammo's top pick."
The .22 Ryder features a unique pig-nosed baffle design that provides superior sound attenuation while still making it easy to service. Each baffle is Red Mil-Spec hard anodized to minimize finish erosion and makes carbon buildup easier to spot when cleaning. Built-in spacers also help reduce carbon buildup between the suppressor tube and baffle stack, and each baffle is numbered and indexed to make re-assembly effortless. An assembly/disassembly tool is included with every suppressor.
The ultra-lightweight Ryder comes in at a mere 3.1 ounces due to its fluted body design and rounded edges¬. A stainless steel threaded interface ensures the Ryder removes as a single unit, and its single–point cut ½ x 28 threads provide a secure attachment to any .22 pistol or rifle with a 1/2 x 28 thread pitch. At only 5.4 inches in length, and 1 inch in diameter, the SF Ryder .22 will not weigh down or obstruct your sight picture.
The SF Ryder 22-A comes with an assembly/disassembly tool, and suppressor pouch. MSRP is $429 and is available for purchase through authorized SureFire Suppressor dealers. For complete product information visit www.surefire.com/ryder22
About SureFire
Located in Fountain Valley, Calif., SureFire, LLC manufactures high performance flashlights, weapon-mounted lights, and other tactical equipment for those who go in harm's way, or anyone who demands the ultimate in quality, innovation, and performance. SureFire is an ISO 9001:2000-certified company.