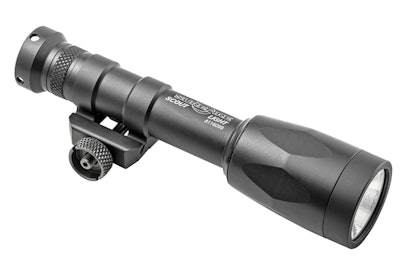 Building upon years of field proven ability, SureFire has upped the game yet again with the newest edition of its bulletproof Scout weapon light series. The new M600P Fury Scout LED light follows its predecessors' form and function but adds a few of the features that have made the new Fury series of handhelds so popular.
The hard-anodized aluminum body is just 5.7 inches long and very lightweight. With the integrated Picatinny rail clamp it is easily attached to any segment of 1913 rail and secured with a robust thumbscrew. If you've got other mounting options in mind the rail clamp assembly is removable, allowing the light body to be attached to a variety of aftermarket mounts.
Operation is simple. Either the rubberized tail-cap or a remote pressure switch can activate the single-stage light output. Both are included, as well as a segment of hook-and-loop tape to attach the pressure pad to the gun. With these accessories you'll have no difficulty finding a mounting option that works for you. I prefer the tail-cap due to its simplicity and ability to click for a constant-on. However, I also appreciate the merit of the pressure switch, especially for longer barreled weapons.
Now I understand none of the above is new over the first generation Scout lights that were introduced so many years ago. Here's what is new. The Fury series of handheld lights are known for their deep bezels and wide beam pattern. This takes the 600-lumen light output and spreads it over a much larger area, as opposed to the far-reaching intensity of the other Scout models. In an urban environment or even during a remote area search, this wide field of view is a definite benefit. Light at 200 yards is nice but it is generally more useful to see better inside 50 yards, a distance that is much more common for us city folks.
Currently assigned to a midnight patrol shift, my environment is ideal for the new SureFire. The M600P Fury Scout found a home on my duty rifle and quickly earned my respect. Its wide field of view made illuminating large areas easy and provided a good deal of light without being overbearing; something common with 500+ lumen lights designed for long distance. In an urban environment, the Fury was able to nicely illuminate the entire front yard of a house from about 50 feet away, or the distance across the average neighborhood street. Moving into a structure, the Fury worked well for large building searches but I found it to be a little much for most residences. The beam intensity, although spread over a wider area, was just too much for close quarters and tended to kill my night vision. Overall, I think the added benefit of this intensity in larger areas outweighs the drawbacks indoors.
Although SureFire lights are not cheap in price, they're not cheap in quality either. You get what you pay for. And in all fairness, the new Scout series seem to be getting more affordable with every new release. Considering the original M600A Scout I bought a lifetime ago is still running strong, I would say it is a great investment. If you're a city cop running a long gun you definitely need to check this one out.
SureFire M600P Fury Scout LED Light Specs:
Max Output: 600 lumens
Tactical Runtime: 1.5 hours
Length: 5.7 inches
Bezel Diameter: 1.37 inches
Weight (w/Batteries): 7.8 ounces
Batteries: Two 123A (included)
Construction: Mil-Spec hard-anodized aerospace aluminum, optically coated tempered window, O-ring and gasket seals
Switch: Click-on/off tailcap and pressure-activated tape switch (both included)
Precision reflector provides a wider beam pattern, increasing situational awareness for close quarter operations
Thumbscrew clamp securely attaches to any MIL-STD-1913 Picatinny rail
A.J. George is a patrol sergeant with the Scottsdale (Ariz.) Police Department who also serves as the SWAT team's crisis negotiation supervisor.