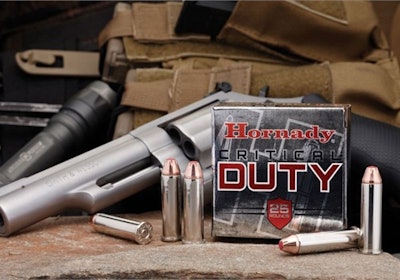 Each January the leading manufacturers of firearms, gear, equipment, and apparel debut many of their new products at the Shooting Hunting and Outdoor Trade (SHOT) Show.
Generally, they are very secretive about what they will be bringing to the show. But here's a quick preview of what is expected to debut later this month in Las Vegas.
Ammunition
Hornady: A self-defense .357 Magnum cartridge will be one of Hornady's newest products at this year's SHOT. The company's Critical Duty .357 Magnum meets established FBI protocol standards for penetration and terminal performance through all common urban barriers. The 135-grain FlexLock bullet features the patented Hornady Flex Tip technology that enhances barrier protection and prevents clogging. A massive jacket-to-core InterLock band locks the jacket and core together for high weight retention. All Hornady Critical Duty loads feature low-flash propellants and nickel-plated cartridge cases.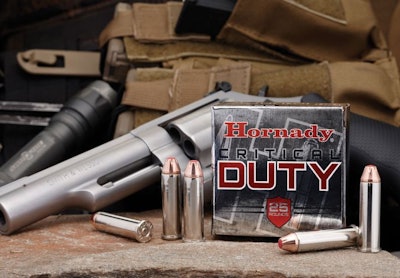 Liberty Ammunition: Bradenton, Fla.-based Liberty Ammunition will bring its lead-free line of Civil Defense handgun ammo to SHOT. The copper monolithic hollowpoint fragmenting rounds are available in 9mm, .40 S&W, .45 ACP, .380 ACP, .357 Magnum, and 10mm.
Speer: Speer LE is releasing its new Gold Dot G2 duty handgun ammo. The Gold Dot G2 has an unusual design. Instead of a large cavity in the nose, which is pretty standard on most duty hollowpoints, the G2 has a shallow cavity filled with performance elastomer that expands on impact and yields a more uniform expansion. Available in 9mm, .40 S&W, and .45 ACP.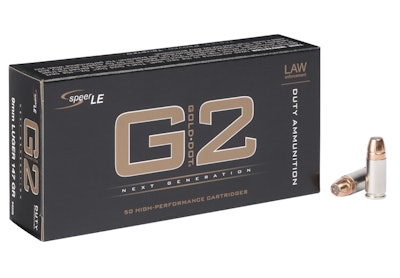 Winchester: Winchester is introducing a new line of Ranger Patrol Rifle ammo. The line includes 64-grain .223 Remington cartridges and 150-grain .308 Winchester cartridges. Both feature Winchester's Power Point design with a soft point and a notched and contoured jacket engineered to maximize terminal performance.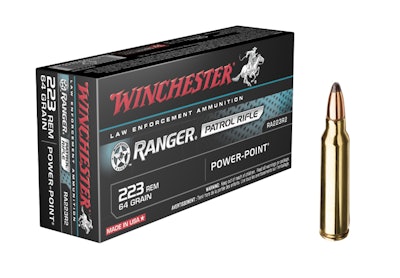 Apparel
5.11 Tactical: Inspired by the company's popular Rapid Assault Combat Shirt, 5.11's new Rapid Response Quarter Zip was designed to provide maximum base layer comfort. The jersey is constructed of a polyester and spandex mélange that wicks moisture away from the body. Bi-stretch woven sleeves provide durability while allowing the wearer a full range of motion. Available in Storm Grey and Sheriff Green.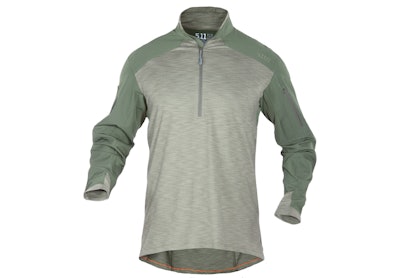 Tru-Spec: Back in the fall Tru-Spec introduced its new 24-7 Series Ascent Pant for men. In Las Vegas, the company is planning to release the female version of the Ascent. Tru-Spec says the Ascent is the next generation of tactical pant. It is constructed of mechanical stretch 6.5-ounce poly-cotton micro rip-stop fabric. Treated with a Teflon coating, the fabric is stain and fade resistant. The Ladies' Ascent pant is available in black and khaki.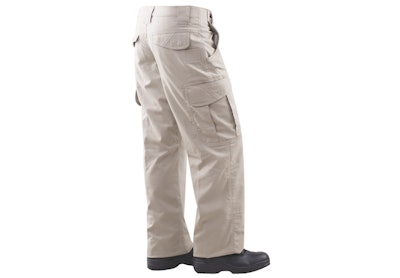 Vertx: Vertx is showing its new 37.5 Combat Shirt at the show. The soft, breathable, and form-fitting shirt features the company's exclusive 37.5 Active Particle Technology, which provides more comfort under body armor by capturing and releasing moisture vapor. Available in black, navy, Smoke Grey, Desert Tan, and OD Green.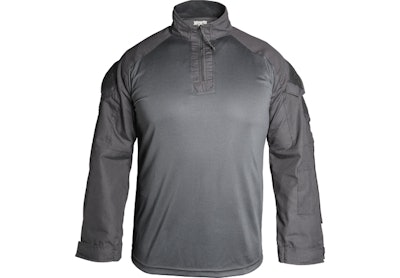 Armor and Helmets
Damascus Protective Gear: The DFX2 Riot Suit from Damascus Protective Gear was designed to provide protection from blunt force trauma without sacrificing fit or comfort. The chest, shoulders, and back hard shell panels have a modular flex design, allowing officers of all shapes and sizes to wear them comfortably without sacrificing mobility. The TG40 thigh/groin protector features a MOLLE system on both thighs.
Team Wendy: The new Exfil Ballistic is the third model in the Team Wendy Exfil line, following two popular non-ballistic tactical bump helmets. With a complete helmet system weight of 2.6 pounds for Size 1 and 2.75 pounds for Size 2, a new boltless Cam Fit retention with Boa closure system for optimized stability and fit, cam-lock sliders for positive locking adjustment, and a new Zorbium impact liner with two full sets of comfort pads, the Exfil Ballistic is designed to be comfortable during extended use by law enforcement operators.
U.S. Armor: Carriers that improve officer comfort will be taking center stage in U.S. Armor's SHOT Show booth. Realizing that the new NIJ .06 ballistic vests trap more heat than their predecessors and cause more skin problems for wearers, U.S. Armor has developed two new carrier technologies: Outlast and Copper CuTec. Outlast is a material that was developed for NASA to keep astronauts cooler; Copper CuTec carriers incorporate a copper compound that inhibits bacterial and fungus growth.
Firearms
Beretta: In early December, Beretta USA announced that the Alabama Department of Public Safety has adopted its new semi-auto Model 1301 as the agency's primary tactical shotgun. The 1301 Tactical has an 18.5-inch barrel, ghost-ring sights, a gas-operated action that can fire four shots per second, and a Picatinny rail.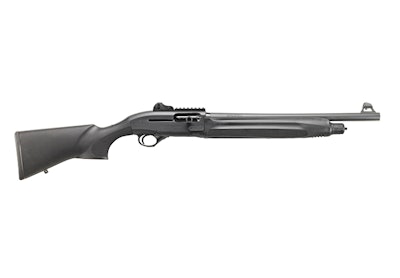 Heckler & Koch: HK will be showing its new VP9 duty pistol. The VP9 is the company's first true striker-fired, polymer-frame pistol. For full details, you can read POLICE Magazine's review in our September 2014 issue.
Kahr Arms: One of four pistols introduced last year by Kahr, the .380 ACP caliber CT380 made its debut in October. The polymer-frame CT380 has a 3-inch barrel and weighs 11.44 ounces. It features the "safe cam" action and lists for $399.
Flashlights
Brite-Strike: Brite-Strike will be showing the latest version of its DLC (Duty Light Camera). The DLC is a rechargeable 7.5-inch-long duty light with a built-in video recorder. It throws out a maximum of 320 lumens; with high, low, and strobe modes.
Fenix Tactical: A three-color tactical flashlight will be introduced by Fenix at this year's SHOT. The new 5.7-inch-long Fenix Tactical TK15C offers red, green, and white light with a maximum output of 450 lumens, enough to illuminate targets out to 217 yards.
Nightstick: Nightstick will be showing its new MT-210 Mini-Tac Pro at this year's SHOT. For a list price of less than $25, the 4-inch MT-210 offers a maximum light output of 120 lumens, with a runtime of 90 minutes on a single AA battery. Users can extend the runtime to as much as six hours by operating the light on the 30-lumen low mode.
Streamlight: The Strion HPL from Streamlight is a rechargeable, high-lumen, long-range professional flashlight with an ultra-bright hotspot for illuminating a broader area on targets. It delivers a blinding 615-lumens that can light up a target's entire upper torso at a distance of up to 400 meters. The 7-inch-long Strion HPL features three output modes, with a runtime of three hours and 45 minutes on low (160 lumens).
SureFire: The latest product from SureFire is a combination wristwatch and ultra-bright flashlight. The company has teamed with tactical watchmaker Luminox to create the WristLight, a Swiss quartz movement wristwatch that features an LED light with three output modes, 300 lumens, 60 lumens, and 15 lumens.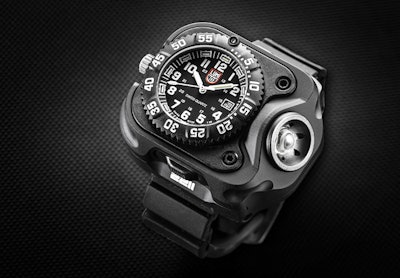 Gear Bags
Blackhawk: For 2015 Blackhawk is adding a Rolling Load Out Bag to its Diversion line of gear bags. The Diversion Rolling Load Out Bag can pack up to 200 pounds of gear. Features include S.T.R.I.K.E. webbing and loop panels, weapon retention straps, and multiple handles for easy lifting. The bag is constructed of 1,000-denier nylon on a heavy-duty aluminum frame with urethane wheels.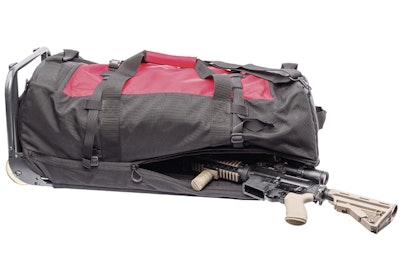 Fox Tactical: Fox Tactical says it will debut its new Go-To range bag at SHOT. The 17x7.5x8-inch bag features a removable divider and five storage pockets. Additional features include a storm flap with Q-R buckle closure, a grip handle, adjustable shoulder strap, and a loop panel for on the inside for securely attaching rip-away accessories. Available in olive drab, black, digital woodland, red, terrain digital, and coyote.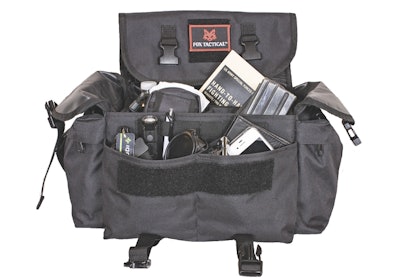 Holsters
DeSantis Gunhide: The new CHAMP holster from DeSantis Gunhide was designed to be extremely adaptable to the wearer's needs. Moving just one screw can change the holster from a left- to right-hand draw. Featuring an adjustable cant, the CHAMP has an adjustable tension device and trigger guard detent.
Fobus Holsters: At this year's SHOT, Fobus will be showing its new line of Inside the Waistband holsters. The holsters shells are stiff enough to permit one-handed reholstering, but they are backed by flexible material that is more comfortable against the wearer's body.
Galco: Galco will debut its new Corvus holster at SHOT. The Corvus is a Kydex holster with an adjustable cant and ride height. It features a forward-molded design and a raised sweat guard to protect pistol and wearer.
Safariland: Safariland will be bringing its new GLS (Grip Lock System) retention holster to this year's SHOT. The GLS allows the wearer to use a natural draw to release the retention system and draw the pistol. Its low-cut and compact design makes concealment easy while also allowing for a quick draw. The holster body is a proprietary nylon blend that is non-abrasive on the pistol's finish. Available in SafariSeven, Plain Black, and FDE Brown finishes.
Miscellaneous Gear
ASP: Armament Systems and Procedures released its rechargeable USB Baton Light back in June. The light adds only 1.5 inches to the length of an expandable baton, and offers 100 lumens of illumination for those times you need to be holding a baton and a flashlight in the same hand. USB connectivity gives the light the ability to charge from any laptop. The lens is ground from a solid piece of acrylic.
Haix: The Black Eagle Athletic 11 Side Zip is the latest boot from Haix. Features of this 11-inch boot include: the Haix climate system, running sole, energy return/supination support, pronation support, heel stabilizer, and smart lacing.
Zero Tolerance (Kershaw): The new 0620 knife from Zero Tolerance was produced as a joint venture with Emerson Knives. It features an ELMAX powdered steel modified tanto blade for high strength and extreme edge retention. The knife also has the patented Emerson Wave tab for speedy blade deployment. Its handle is G-10 scale in stonewashed titanium black.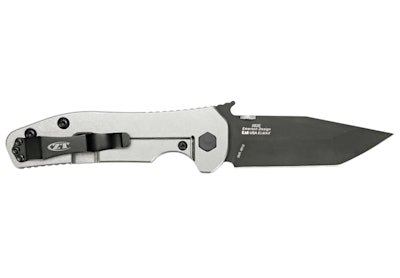 LRAD: LRAD says it will be bringing its new 360X Mobile Mass Notification System to the show. The system is a fully integrated, self-contained, ruggedized trailer that uses a telescoping/folding mast to deploy an LRAD 360X at a maximum height of 30 feet, with area coverage up to 5.3 kilometers. The system was developed to provide communications with the public and for emergency warnings during natural disasters.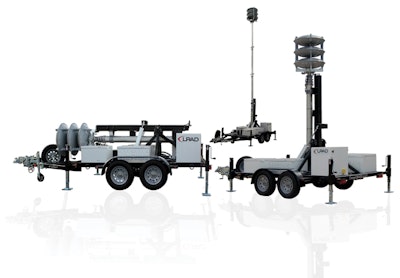 RAM Mounts: IntelliSkin from RAM Mounts is a protective system for tablets and smart phones that works in tandem with the company's Tough-Dock mounting system to give users quick-and-easy access to their devices. IntelliSkin shields devices from drop damage and scratches. The protective system also features an integrated connector, which is molded directly into the skin. This prevents damage to the connector from repetitious docking and undocking, which is common in field applications.
Wiley X: Wiley X has added the new WX Tide to its Climate Control series for 2015. Like all Wiley X Climate Control models, the new WX Tide features the company's patented, removable, soft-foam Facial Cavity Seal, which blocks out wind and dust, and prevents reflected light entering from the sides, above, and below. The WX Tide meets stringent ANSI Z87.1 High Velocity and High Mass Impact Safety standards for protection against a wide range of hazards.
Optics and Lasers
Aimpoint: Aimpoint's new Micro T-2 sight features a new front lens design that incorporates a new reflective lens coating for enhanced clarity. The company says that with the Micro T-2 no matter the angle or conditions the shot presents, the user will be able to get on target quickly and accurately. For a full review of the new Micro T-2, see Police Product Test on page 74.
Laser Ammo: Laser Ammo will be showing two versions of its training adapter for airsoft guns. The Flash is a CNC-machined flash suppressor adapter that replaces the stock flash guard of any off-the-shelf airsoft rifle. The Recoil Enabled Airsoft Laser (R.E.A.L.) is a conversion kit for KWA ATP airsoft pistols. Both systems were developed so that shooters can turn airsoft guns into laser training weapons.
Viridian: The X5L weapon light and laser sight combination is Viridian's big news at this year's SHOT. Featuring a Cree LED, the X5L offers 178 lumens of white light and features a green laser that can be seen for 100 yards in daylight.