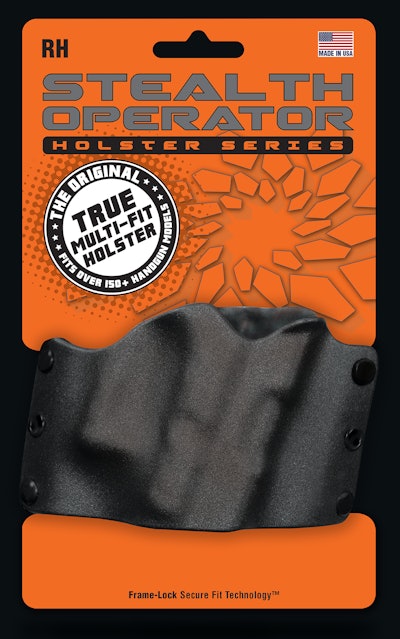 It can be a pain to find and purchase a different holster for each handgun you own. And then you have to take the time to take off one holster and put on another just to carry a different weapon. With Phalanx Defense Systems' Stealth Operator Holster Series, you can wear one concealed carry holster to accommodate various handguns, such as your duty weapon and a personal weapon. Just take one out and put in the other. The holster will wrap itself around each gun using proprietary Frame-Lock technology for positive retention.
"When the gun goes into the holster, there is a positive click, an audible sound, that says, 'This is properly seated,'" explains Eric T. Johnson, executive vice president, sales and marketing for Phalanx. "You can go upside down, run, whatever, and it will stay."
While not developed for law enforcement or intended for duty carry, the Stealth Operator Holsters became popular with federal and plainclothes officers and officers carrying off duty. Now they are being rolled out on a large scale at major wholesale distributors.
"It's been a challenge for us to communicate what a multi-fit holster is," Johnson says. "Even many people who own the holster don't realize they can use several of their weapons in it." Once they understand, they're amazed by how well it works for such a wide range of guns in different sizes, he says.
To help convey this message, an online "Will Fit" chart is updated daily so you can check if your weapon is compatible with the Full Size, Compact, and Twin Mag holsters. You can even try them out in the store before purchase without disturbing the packaging.
The Stealth Operator Holster Series consists of three models: Full Size, Compact, and Twin Mag. The Full Size fits most popular full-frame handguns. The smaller Compact fits even more guns because of its open bottom. The Stealth Operator Twin Mag Holster fits double stack magazines for most Glock handguns as well as for hundreds of other magazines of a similar size. It is the only model that features an adjustable retention screw. All feature rust-resistant black oxide hardware.
These lightweight, low-profile outside-the-waistband holsters are designed to provide minimal print and maximum concealment, according to the company. Phalanx Defense Systems' proprietary material makes the Frame-Lock technology that accommodates so many gun models possible.
"It's taken time to get the right blend of polymers," says Johnson. "The material changes shape, form, and plyability once it's been molded. It takes three to four days before the mold takes its final shape."
Once it's set, the durable injection-molded nylon shell provides a "flexible rigidity" that adjusts to the geometry of a wide range of firearms and is much tougher than Kydex, Johnson says. In fact, customers have reported that after running over their holsters with a truck the Stealth Operator stayed in one piece. The special polymer blend also has a melting or deformation temperature of over 400 degrees, so you won't have to worry about the holster suffering damage if you leave it in the trunk of your car on a hot day.
Phalanx is actively developing inside-the-waistband multi-fit holsters as well as left-handed versions. Current Stealth Operator holster models are available for $39.95 in multiple colors: black, coyote, OD green, and pink.
www.stealthoperator.com