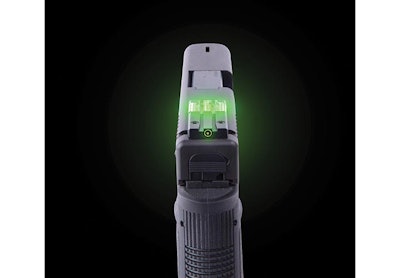 Meprolight has been steadily gaining ground in the firearm sight arena and now offers a multitude of iron and fiber optic sights for many applications. They're also innovators in this field and produce some very unique equipment to help you get those rounds on target. Their newest invention is the FT Bullseye fiber-optic pistol sight and it is a clear departure from the iron sights of old.
As unique as it is, the FT Bullseye is really quite simple. It is a one-piece sighting system for a pistol that eliminates the need for a separate front sight base and claims it will allow a shooter to get on target much faster than the old fashioned method of aligning two pieces of metal. Built from a metal and plastic body, the FT Bullseye mounts to the top of your pistol using the dovetail groove vacated by your old iron rear sight. Get it centered, torque the set screws, and you're in business. It's really that simple. The sighting system is comprised of a combination of fiber-optic and Tritium tubes that combine to present the shooter with a simple circle and dot. Available in either green or red color schemes, all you need to do to get quick, accurate hits is center the dot in the circle and press the shot.
Now, you're probably thinking, "But all I have to do with my iron sights is center the front sight with the rear sight. How is this any different?" Trust me; I thought the same thing before I had a chance to shoot it. The beauty of this sight is twofold. First, the "sight plane," if you want to call it that, is much shorter than with iron sights so no matter how crooked you hold the pistol you'll pretty much always see the dot. There is no chance of silhouetting as can occur with the front iron sight. Second, since this is a circle-dot combination, there isn't just a horizontal alignment focus as there generally is with iron sights. I don't know about you but I find there is nothing precise about aligning three pieces of metal.
The FT Bullseye's fiber-optic and Tritium combo makes not only for a super bright sight but also automatically adjusts its intensity depending on your ambient lighting conditions. I found this to work extremely well and I never found myself wishing for more or less intensity in the sight.
The claim to fame of the FT Bullseye is the speed of targeting. I mounted the sight on my Glock 23 and ran several magazines worth of ammo through the gun while firing different speed-focused drills both from the holster and off-hand. Although every shooter is different and I can't claim this will increase your speed, I felt like it certainly shaved a little time off for me. The circle-dot is akin to those I've used for rifles and my eyes found it familiar and fast. The low profile will fit inside just about any holster and for an MSRP of around $200, it fits squarely between the price of most iron sights and a decent combat optic.
A.J. George is a sergeant with the Scottsdale (AZ) Police Department assigned to the Technical Operations Unit, Special Investigations Section. He has more than a decade of law enforcement experience in patrol, field training, and traffic enforcement.