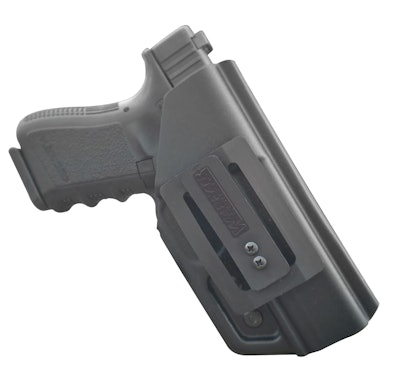 In an effort to offer its law enforcement clientele new, high-quality, open- and concealed-carry options, OfficerStore recently partnered with WarFytr, a small group of combat veterans, product designers, and manufacturers who specialize in creating forward-thinking, patented solutions. Utilizing and implementing nearly a quarter century of government, military, and law enforcement experience, WarFyter has recognized the importance of how the most-minute details can have the most profound impacts on the finished product. This attitude is reflected in the quality of their work, as each meticulously designed detail offers all-day comfort, maximum convenience, and reliable, lightning-fast use when needed.
Unique among its many, diverse products that WarFytr offers is the new Liberty Holster, regarded as the most versatile concealed-carry holster available today, according to the company. Its unique, ambidextrous design gives the wearer many carrying options, and its innovative, patent-pending Fabriclip can be used to securely latch it onto backpacks, purses, pockets, and more. The Fabriclip's careful design ensures that it won't damage car seats, furniture, or clothing, unlike many other metal or steel clips.
"The company has been great to work with, and the Liberty Holster is solid, featuring some truly innovative holster-attachment systems that allow us to address a variety of clothing-related, concealed-carry options," said OfficerStore Law Enforcement Specialist Mac Brostrom.
The Liberty Holster works with any belt size or no belt at all. Holsters may be set at any carrying angles and simply locked into place to secure, and both the holster tension and clip tension are fully adjustable. It can easily accommodate a wide variety of gun brands, including Glock, Smith and Wesson, and Sig-Sauer, among many others, thanks to an innovative, 3D laser-scanning process that creates a vacuum-formed mold, which guarantees a precise fit to 1/100 of an inch.
For more information on the Liberty Holster and to order yours, visit OfficerStore.com.