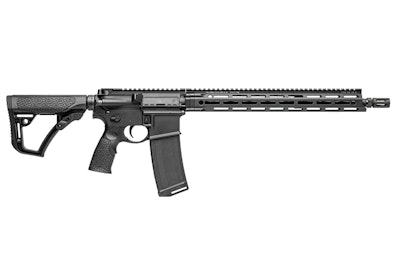 As I write this we are less than a month out from the annual Shooting, Hunting, and Outdoor Trade (SHOT) show held each January in Las Vegas. SHOT is the world's biggest gun and ammo trade show, so it's where most new firearm models are introduced to the public by their manufacturers.
Often the manufacturers can be very secretive about their plans, and it can be difficult to determine what will actually be at the show in advance.
Still, it can be fun to make the prediction, so POLICE offers this preview of what firearms will be introduced or promoted by their manufacturers at the 2017 SHOT Show.
American Tactical (www.amchar.com) will be showing a variety of firearms in the Amchar Wholesale booth. American Tactical's ATI HGA FX45 Titan is a compact .45 ACP 1911-style pistol with a 3.18-inch barrel and standard seven-round capacity. ATI also makes full-size 1911-style handguns.
Battle Rifle Company (www.battleriflecompany.com) will be showing its latest AR variants at this year's SHOT. One interesting model in the line is the BR308, which as the name implies is a .308/7.62mm rifle. The BR308 is available in a variety of barrel lengths from 14.5 inches to 20 inches. Features include a single- or double-stage Battle Rifle Combat trigger, an enhanced Combat stock system with sling swivel attachment, a Harris-style bipod, a built-in cheek weld, and a variety of options.
Beretta (www.beretta.com) will be showing a wide range of pistols and long guns at this year's SHOT. One of the more interesting Beretta firearms for the law enforcement market is the ARX100 modular tactical rifle. The ARX100 features a constant contact, short-stroke gas piston system that the company says makes it feed and fire under the most unforgiving condition. All controls on the ARX100 are ambidextrous. The rifle has no pins and can be disassembled and reassembled quickly without tools.
Colt Defense (www.colt.com) will show its Colt Combat Unit Rail Gun, which was designed with the help of Ken Hackathorn and Daryl Holland. A 1911 built for the contemporary tactical environment, the Rail Gun features a Picatinny rail, the Colt Dual Spring Recoil System, Novak night sights, an undercut trigger guard, an upswept beavertail, 25LPI checkering on the front strap, and a National Match barrel.
CZ (www.cz-usa.com) is the latest firearms manufacturer to offer a polymer framed, striker-fired compact pistol. The new CZ P10 C has the same grip angle as the CZ75 and comes with three interchangeable backstraps. Reports say the trigger breaks at 4 to 4.5 pounds with a very short reset, and the trigger guard is designed for use with gloves. Available in 9mm and .40 S&W.
Daniel Defense's (www.danieldefense.com) V7 is the company's first rifle to feature M-LOK attachment technology with the Daniel Defense MFR XS 15.0 rail, which substantially reduces weight without reducing available mounting points for accessories. Built around a cold hammer-forged 16-inch barrel, the V7 has a Daniel Defense improved flash suppressor, buttstock, and pistol grip.
Doublestar (www.star15.com) will show the Always Ready Carbine (ARC) patrol rifle, which debuted in 2016. The 5.56mm NATO ARC sports a 16-inch lightweight nitride chrome-moly barrel with a 15-inch Samson Evolution handguard, which allows the user to place rails where needed without the added weight of a full rail system. Features include an ACE Socom stock, Ergo Sure Grips pistol grips, and Samson folding sights.
FN (www.fnamerica.com) will be showing its new FNS-9 Compact pistol and its re-engineered FN 15 rifles at this year's SHOT. The FNS-9 Compact is a 9mm striker-fired concealed carry weapon with a 3.6-inch barrel. FN's line of FN 15 rifles—the FN 15 DMR II, FN 15 Tactical Carbine II, and FN 15 Tactical Carbine .300 BLK II—have been updated with the new FN handguard with M-LOK technology, which the company says offers extreme rigidity and less deflection, ensuring that accessories remain affixed with no shift in zero.
Glock (https://us.glock.com) is being tight lipped about its plans for 2017. Based on previous years, it's likely we will see more optics-ready MOS pistols and upgrades of earlier Glock models. But we will have to wait and see.
Heckler & Koch (www.hk-usa.com) recently expanded its VP duty pistol line with a tactical model. The VP Tactical has all the features of the VP plus a threaded barrel that is manufactured in the company's Oberndorf, Germany, factory.
Kahr Arms (www.kahr.com) is adding some new features to four of its most popular handgun models: the CM9093, CM4543, CW3833, and CT3833. These four models now offer white three-dot sights, a Pachmayr Tactical Grip Glove, and a Pearce finger rest magazine extension. All of these pistols are now offered in Cerakote tungsten on the slides, triggers, and slide stop levers.
Kel-Tec (www.keltecweapons.com) will be showing its complete line of innovative firearms, including the KSG shotgun and RDB bullpup rifle at this year's show. The KSG is a unique pump-action shotgun that holds a dozen 12-gauge shells. The RDB bullpup rifle features a rotary bolt with a spring-loaded ejector and an extractor facing down. The spent case is pulled backwards along the top of the magazine and then ejected down a vertical chute.
Last year at SHOT, Kimber Mfg. (www.kimberamerica.com) surprised a lot of people by announcing it was making a six-shot concealed-carry revolver, the K6s. This year the company is introducing new models of the K6s, including one with a Crimson Trace laser sight. Kimber is also adding five new variants to its popular Micro 9 line of micro-compacts with 1911 ergonomics.
LWRCI (www.lwrci.com) will be exhibiting two new rifles, the LWRCI IC-DI and REPR MK II rifles.The LWRCI IC-DI is available in 16-inch, 12-inch, and 10-inch barrel versions that offer features such as fully ambidextrous controls and LWRCI proprietary receivers, bolt carrier groups, stocks, and grips. IC-DI (Direct Impingement) rifles are available in 5.56mm NATO and .300 Blackout. LWRCI's REPR (Rapid-Engagement Precision Rifle) MKII is a 7.62mm NATO rifle available with 20-inch, 16-inch, and 12-inch barrels. Features include a 20-position gas block, LWRCI proprietary parts and a SureFire SFMB suppressor adaptor.
Patriot Ordnance Factory (www.pof-usa.com) makes a variety of direct impingement, gas piston, and bolt-action rifles. The company's latest direct impingement model is the Renegade. This 5.56mm NATO rifle features an M-LOK compatible rail, a heat sink barrel nut, a Dictator nine-position gas block, a 16.5-inch nitride heat-treated barrel, the Gen 4 POF-USA billet lower receiver, and the POF-USA Ultimate Bolt Carrier Group.
Remington (www.remington.com) will show its new Model 700 Police Short Action .308 rifles at this year's SHOT. The 700 short action is available with a 24-inch or 20-inch hammer-forged heavy barrel with 5R rifling. A variety of features are offered depending on model, including composite stocks, threaded muzzles, and pistol grips.
Austria-based firearms design and manufacturing company Ritter & Stark (www.ritterstark.com) will be exhibiting its SX-1 Modular Tactical Rifle at this year's SHOT Show. The SX-1 is a long-range precision rifle that can be quickly adapted to fire the .308 Winchester, .300 Winchester Magnum, or the .338 Lapua Magnum. Each barrel for the SX-1 has a Picatinny rail, which the company says allows users to change the barrels with pre-set scopes with no shift of impact when changing caliber.
One of the trends we are seeing in personal defense handguns is that more and more models are sold optics ready. SIG Sauer (www.sigsauer.com) will be showing its full-size P320 RX, a 9mm striker-fired duty pistol that comes fitted with the Romeo1 3 MOA red dot sight and tall SIGLite night sights.
Smith & Wesson (www.smith-wesson.com) would not tell us what products will make their debut this year, but one recently released pistol is sure to draw some attention at this year's show, the M&P Shield in .45 ACP. This concealed carry .45 was announced in May at the NRA show. Like earlier Shield models the .45 is available in versions with or without a manual thumb safety in addition to the standard trigger safety and firing pin block. The .45 is a little wider than the earlier Shields and has a different grip texture to help shooters control the recoil of hot defense loads.
The big news out of Springfield Armory (www.springfield-armory.com) is the Saint, a 5.56 NATO AR-style rifle. The Saint features a 16-inch chrome moly vanadium barrel that has been treated with Melonite, micro-polished trigger components treated with nickel boron, a heavy tungsten buffer, a Bravo Company Mod 0 pistol grip, a Bravo Company oversized trigger guard, and a Bravo Company buttstock with rubber butt plate.
Sturm, Ruger & Co. (www.ruger.com) will be showing its new American Pistol line at this year's SHOT. The newest model in the line is the Ruger American Pistol Compact. With a 3.55-inch barrel, the Compact shares all of the features of the duty-size Ruger American Pistol in an easily concealed frame that is suitable for off-duty carry.
Walther Arms (www.waltherarms.com) announced late last year that it was selling a new low-cost (list $399) personal defense handgun, the Creed. The Creed has a four-inch barrel, a pre-cocked double-action trigger, a bobbed hammer, Tenifer coating on all metal parts, three-dot sights, and an ambidextrous mag release.