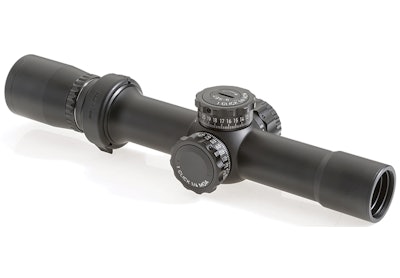 Companies will be showing all sorts of firearms-related gear at the Shooting, Hunting, and Outdoor Trade (SHOT) Show in Las Vegas this month, including optics and sights well suited to police work. The following is a sampling of devices that may soon be on the wish lists of many law enforcement officers.
Advantage Tactical (www.advantagetactical.com) began making sights to help those with the most compromised vision improve their shooting. The Advantage Tactical Pyramid Sight (ATPS) system with its distinctive pyramid shape is completely customizable and is known for helping law enforcement officers with failing vision improve their qualifying scores. Now, the ATPS COSUB (co-witness and submachine gun) top picatinny-mounted sight system is available for use on an AK, any carbine with a picatinny, and submachine guns.
The Aimpoint (www.aimpoint.com) 3X-C Magnifier, which debuted at SHOT Show 2016, is now shipping to dealers. It can be used with all Aimpoint sights for long-range aiming or observation, or as a handheld 3X monocular. Aimpoint magnifiers use the red dot in Aimpoint sights as the aiming reticle, eliminating the need for re-zeroing when shifting between non-magnified and magnified aiming. The 3X-C is encased in a shock absorbing protective rubber cover that also creates an ideal ergonomic grip. Internal optical adjustments make aligning the magnifier and sight quick and easy.
The LaserBallistics Series of laser range finders from American Technology Network (ATN) (www.atncorp.com) can be used with any ATN Smart HD Scope or with any traditional rife scope as a standalone ballistic calculator. You can use ATN's Ballistic Calculator App on your smart phone or tablet. The Laserballistics 1500 Digital Rangefinder has an effective range up to 1,500 yards, and after being connected with your phone and Smart-HD scope, can adjust the reticle in only five seconds. It features Bluetooth connectivity, a mobile app for day scopes, ranging mode, fog mode, and speed mode.
You can expect to see multiple new Elite Tactical AR Optics and models from Bushnell (http://bushnell.com) at SHOT. From the Elite Tactical line, Bushnell will be debuting its LRTSi, SMRS, and DMR II-I models. From the AR Optics line you'll see the 3X Magnifier, Enrage Red Dot, Engulf Micro Reflex Red Dot, and Incinerate Red Dot. The Bushnell AR Optics 3X Magnifier is designed to perfectly pair with AR Optics TRS-25 by Bushnell, but it works with any red dot. The AR Optics 3X Magnifier mounts behind your optic and it comes with an ambidextrous flip mount so you can flip it out of the way when you don't need it.
At the C-More Systems (https://cmore.com/) booth at SHOT, you'll see the STS2 and the RTS2, both of which are new and improved, and well suited for duty use. The STS2 is intended as a handgun optic. It is a small, compact sight with a 10-position manually operated push button intensity switch with previous intensity return and auto off. It has precision 1 MOA click adjustments for easy zeroing. The RTS2 works well on a carbine, with a larger lens than the STS2, in addition to all of the same features. Many new mounting options are scheduled to be available for both sights in 2017.
The all new Leupold (www.leupold.com) LTO-Tracker thermal viewer is compact at only 5.6 inches long and weighs less than 10 ounces, allowing it to be carried comfortably in a pant pocket. While hunters may find it handy, so will law enforcement officers. It runs on a CR123 battery that delivers 10 hours of continuous operation. Equipped with a 6x digital zoom and 21 degree field of view, this thermal device will detect subjects up to 600 yards away. The LTO has six color palettes to choose from and a user controlled reticle for greater viewing precision.
March Optics (http://marchoptics.com) will be showing its MAR1071 1 - 4.5 x 24mm scope at SHOT. It was designed for service rifle match shooters who shoot at various distances up to 600 yards. But this scope is also well suited for SWAT operations at close range. It features oversized tactical turrets for easy windage and elevation adjustments and high-quality ED lenses designed to provide exceptional image resolution.
Meprolight (www.themakogroup.com) is introducing the RDS Pro MIL-SPEC reflex sight, which can be mounted to any rifle platform using a Picatinny rail. It operates for thousands of hours on a single AA battery, with an automatic shut off/on sensor mechanism so it's always ready for use. In addition to being certified waterproof to 66ft, the sight is designed to perform under the harshest and most rugged conditions. Featuring a large display window with 30mm FOV for rapid target acquisition, the shooter can easily keep both eyes open. The clearly defined red dot features four interchangeable brightness intensities to fit any lighting condition—day or night. The RDS PRO is compatible with GEN II and GEN III NVGs as well as magnifying scopes.
The Vulkan 3 thermal biocular from Night Optics USA (www.nightoptics.com) is the newest addition to the company's Vulkan Series thermal imagers. It's designed to be much lighter weight for extended periods of use while still providing high performance. The Vulkan 3 features high-grade OLED displays and high-quality U.S.-made germanium optics as well as custom thermal cores for great imaging with rich contrast.
Night Vision Devices (https://www.nvdevices.com/), formerly known as Night Vision Depot, is now offering refurbished MIL SPEC clip-on night vision weapon sights, complete with a one-year warranty. These AN/PVS-30s were exchanged by the U.S. Army with the factory for brand new systems. They are available to law enforcement for a fraction of the cost of a new system.
Trail thermal imaging rifle scopes from Pulsar (www.pulsar-nv.com) are made for hunters and first responders. The top Trail XP models include a robust thermal sensor with 640x480 pixel resolution, 17 µm pixel pitch, and an AMOLED micro-display at the same resolution for clearly viewing even the smallest details at closer ranges. The Trail features 8–10 hours of battery life (16–20 with extended batteries), on-board video recording with 8GB of storage, friendly remote control operation, and WiFi.
P4Xi 1-4x24mm from Steiner (www.steiner-optics.com) is a rugged riflescope designed for patrol and tactical situations. You can choose from five daytime and six nighttime illumination settings, with an off position between each setting. The P4Xi features a fast-action P3TR reticle and offers true 1X magnification for both-eyes-open shots and 4X zoom for situational awareness and versatility. Steiner's N2 Injection System pressure seals 14-psi pressurized dry nitrogen into the scope to keep out water, dust, dirt, and fog.
Trijicon (www.trijicon.com) will be showing its MRO at SHOT. The Miniature Rifle Optic is a red-dot sight designed to be light and rugged, mount easily, and zero quickly. It has a large objective lens and shortened optical length to minimize the "tube effect." The MRO features a 2 MOA dot and eight brightness settings, including two that are night vision compatible and one for very bright conditions. According to Trijicon, it gets five years of continuous use on a single 2032 battery. The MRO is available with or without a mount.
TruGlo (www.truglo.com) will be showing two brand-new products at SHOT: the Tru-Tec Xtreme tactical carbine red-dot sight and the Tritium Pro Night Sights for handguns. Also on hand will be the Tru-Tec 20mm red dot sight, which recently received a recommendation from the NTOA. TruGlo's Tritium Pro night sights are being billed as a good fit for law enforcement use and training. They feature a front sight with a large white "FOCUS•LOCK" ring and a U-notch in the rear sight to simplify alignment. In low light or complete darkness, the sights glow and transition to a standard 3-dot configuration.
Vectronix (www.vectronix.us) will be showing a variety of laser range finders and clip-on thermal imagers at SHOT, as well as its new High Resolution Thermal Viewer (HRTV). This lightweight, multifunctional, long-range binocular system features photo, video, and streaming capabilities as well as a laser range finder, laser pointer, and GPS receiver. It is also designed to provide increased situational awareness at any time thanks to the integration of three complementary long range video channels: cooled thermal, color day, and low-light level. The HRTV weighs only 4.4 pounds, including battery.