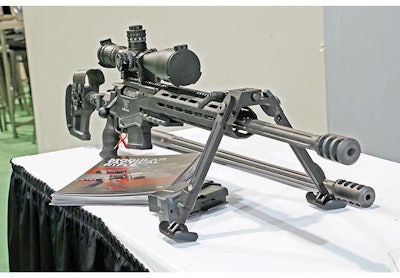 In the last decade, the number of law enforcement products on display at the annual Shooting Hunting and Outdoor Trade (SHOT) Show has ballooned to the point that it can be difficult to see them all.
But in January the editorial staff of POLICE Magazine tried to do just that. Here's a quick look at some of the items that caught our attention.
Ammunition
Allegiance Ammunition (www.allegianceammo.com) is known for its lead-free frangible ammo. The company's new 9mm 70-grain ammo called OneStrike has an HET core that fragments as it passes through light barriers, good for use in close-quarters environments. Allegiance's SilentStrike is a fragmenting subsonic (975 fps) round designed for use with the M4 and AR weapons.
Hornady (www.hornady.com) introduced its Black line of cartridges. Hornady Black includes the 5.56 NATO 75-grain InterLock HD SBR designed for short-barreled rifles and AR pistols.
SIG-Sauer (www.sigsauer.com) showed its complete line of 9mm Elite Performance Ammunition, including 115-grain, 124-grain (new for 2017), and 147-grain available in V-Crown JHP personal defense and FMJ target configurations. On the rifle side, SIG introduced a new subsonic 220-grain .300 Blackout cartridge.
Speer (www.speer-ammo.com) has revised the Gold Dot. The new Gold Dot 2 is not a hollow point. Instead, the ammo features an elastomer insert to drive expansion. Available in 9mm, .40 S&W, and .45 ACP.
Winchester (www.winchesterle.com) showed its Ranger Super Clean lead-free ammo for law enforcement handgun training.
Apparel and Footwear
5.11 Tactical (www.511tactical.com) showed its new Defender-Flex Jeans. The jeans look like everyday clothing, not tactical wear, but they have tactical pant toughness and plenty of utility pockets.
5ive-Star Gear (www.5ivestargear.com) is a sister brand of Tru-Spec. It showed its new LW-2 lightweight plate carrier and new MOLLE duty gear pouches designed to attach to plate carriers and bags.
Bates (www.batesfootwear.com) introduced its new charge boot, which is available in 6-inch and 8-inch side-zip models. Features include a patent-pending memory foam heel cup with EMX technology that creates a custom fit to the wearer's feet.
Condor Outdoor (www.condoroutdoor.com) introduced two new tactical polos, a short sleeve and a long sleeve. Both are made of moisture-wicking fabric.
Dickies' (www.dickies.com) new 3-in-1 Integrated Outerwear System can be worn separately or together depending on the weather. The collection includes a coat, fleece, and puffer designed to provide thermal regulation to keep the wearer warm.
First Tactical (www.firsttactical.com) is introducing two new armored gloves for 2017, including a Slash & Flash Hard Knuckle Glove with both Kevlar and Nomex and a Slash Patrol Glove with Kevlar.
Fusion Tactical (www.fusionclimb.com) manufactures its own belt systems. The new Battle Belt features strength-rated MOLLE, webbing nylon, low-profile loop, Velcro inside to secure gear, a special quick release buckle with a minimum 300-pound tug rating.
HWI Gear (www.hwigear.com) showed two new armored gloves. The Elastic Cuff Kevlar Duty Glove has a complete Kevlar liner. The Spectra Lined Duty Glove has a Spectra liner. Both offer cut and slash protection.
Propper (www.propper.com) kicked off its 50th anniversary year with a bunch of new products, including a women's line that features completely redesigned cuts and fits for a woman's body, the Kinetic Pant featuring Nexstretch ripstop nylon, and the Patrol Bag designed to affix to the passenger seat of a cruiser and the smaller Bailout Bag with lots of MOLLE.
Reebok (http://reebokwork.com) showed its new Duty Sublite Cushion Tactical boots, which are available in 8-inch, 6-inch, mid height, and oxford styles and women's versions. They're named for the SubLite foam midsole made to minimize weight and allow for greater range of motion.
Ridge Outdoors (www.ridgefootwear.com) showed its innovative Packin' Tee concealed carry T-shirt. The 100% pre-shrunk cotton T-shirt has mounting pads for Ridge holsters so it won't sag with the weight of a handgun.
Tru-Spec (www.truspec.com) previewed its 24-7 Xpedition Pants. Features include a comfort fit slider waistband, deep front slash pockets for folding knives, cargo pockets, and a double zipper leg opening with expandable mesh lining and venting options.
Vertx (www.vertx.com) showed its Recon Combat Shirt and Recon Pants. The Combat Shirt is a quarter-zip design with 37.5 Active Particle Technology for evaporative cooling. Features on the Recon Pants include a variety of utility pockets, double-reinforced knees with pad pockets, and a fully gusseted crotch for comfortable movement.
Duty Gear
Alien Gear (http://aliengearholsters.com/) previewed its Shape Shift modular holster system for concealed carry. A starter kit will be available containing attachments for appendix, IWB, OWB, belt slide, and paddle for your weapon.
DeSantis Gunhide (www.desantisholster.com) introduced the Vanquisher and the Raptor. The Vanquisher is an ambidextrous tuckable IWB holster built from padded ballistic nylon that can be adjusted for both height and cant and comes in two sizes to fit almost all concealable handguns. The Raptor is a high-ride OWB/IWB Kydex thermoformed holster that comes with 1.5-inch and 1.75-inch belt loops and IWB soft polymer straps.
Fobus (www.fobusholster.com) showed its Universal IWB holster. The holster can accommodate a wide variety of pistols, and has a synthetic flexible backing that conforms to the user's body.
Gould & Goodrich (www.gouldusa.com) exhibited its new X1000 and X2000 X-Calibur duty holsters. The Level 2 retention holsters are available in light-bearing and non-light-bearing versions.
S.O.Tech Tactical (www.sotechtactical.com) showed its Viper Flat IFAK (individual first-aid kit), an ambidextrous pouch that can be worn on an armor carrier or duty belt.
Tuff Products (www.tuffproducts.com) debuted the P.T.K.P. Leg System. The leg strap personal trauma kit pouch is made of black nylon and can hold EMT shears, latex gloves, a tourniquet, and a chest seal.
Firearms & Accessories
AMCHAR (www.amchar.com) showed its American Tactical Imports (www.americantactical.us) line of pistols, shotguns, and rifles, including the ATI Omni Hybrid with Quad-Rail. The Omni Hybrid is an economical AR that features a hybrid metal and polymer lower receiver.
American Built Arms (www.abarms.com) showed the Mod X M500 Tactical Shotgun System, a bolt-on replacement stock specifically designed for the Mossberg 500 Pump Action Shotgun. The "Fixed-Adjustable" buttstock includes the AB Arms Enhanced Buffer Tube and spring-loaded butt pad, and allows for 28 different locking positions.
Arsenal Firearms USA (www.arsenalfirearms.com) introduced the Stryk B Pistol. The 9mm Stryk B features AF (Arsenal Firearms) Speedlock locking technology for striker-fired weapon systems, a 4.29-inch barrel, low bore axis, a no-tilt design, an accessory rail, and a short-reset trigger.
Beretta (www.beretta.com) showed its new PX4 pistol, which features a reduced profile, Ameriglo night sights, and decock-only operation. Shooters can modify both the magazine release buttons and the grips.
Bushmaster (www.bushmaster.com) introduced the Minimalist SD Carbine, which is available in 5.56mm NATO or .300 Blackout. Features on the new 16-inch barrel AR include an AAC 51T flash hider, an AAC SquareDrop handguard with full-length rail, an ALG Defense Advanced Combat Trigger, a Mission First Tactical Minimalist stock, and a Mission First Tactical grip.
CZ (www.cz-usa.com) showed its P-10 striker-fired duty gun and the new P-10 Compact. Both are available in 9mm and .40 S&W.
Daniel Defense (www.danieldefense.com) showed its new DDM4V7s carbine. The DDM4V7s sports an 11.5-inch chrome-lined barrel with a 1:7 twist. Features include a DD Improved Flash Suppressor and an MFR XS 9.0 rail system.
Dead Foot Arms (www.deadfootarms.com) exhibited the Modified Cycling System (MCS) with Folding Stock Adaptor. This is a drop-in kit for the AR-15 and AR-9 platform that, once installed, allows the weapon to fire and fully function while the stock is folded.
DoubleStar (www.star15.com) showed its new Always Ready Carbine (ARC). It sports a 16-inch lightweight nitride chrome-moly barrel with a 15-inch Samson Evolution handguard that allows the user to place rails where needed without the added weight of a full rail system.
FN (www.fnamerica.com) brought the new compact version of the striker-fired FNS to SHOT. The FNS Compact has a 3.6-inch barrel and a snag-free design. FN also exhibited its new FN 15 Series ARs, which feature a new alignment mechanism to ensure all mounted accessories will remain affixed without any shift in zero.
Heckler & Koch (www.hk-usa.com) showed its new VP9 Tactical, which comes suppressor ready with a threaded barrel.
IWI (www.iwi.us) showed its Tavor rifles, including the Tavor 95 bullpup. The bullpup design makes the Tavor 95 easy to maneuver in tight spaces despite its 16.5-inch barrel.
Kel-Tec (www.keltecweapons) introduced its new California-compliant (no pistol grip) RDB Survival bullpup rifle. The RDB Survival features a 16-inch barrel and accepts standard AR magazines.
McMillan (https://mcmillanusa.com) showed the XTR tactical stock, which is designed to have a fully exposed barrel for greater heat dissipation and can accommodate multiple accessory rails.
Remington (www.remington.com) has entered the striker-fired polymer-framed pistol market with the RP9. A slim grip profile gives this full-size duty gun great hand feel and the optimized grip angle reduces recoil.
Ritter & Stark (www.ritterstark.com) exhibited its SX-1 Modular Tactical Rifle. The SX-1 is a long-range precision rifle that can be quickly adapted to fire the .308 Winchester, .300 Winchester Magnum, or the .338 Lapua Magnum. Each barrel for the SX-1 has a Picatinny rail, which the company says allows users to change the barrels with pre-set scopes with no shift of impact when changing caliber.
Savage (www.savagearms.com) debuted two new AR-variant rifles at this year's show, the MSR 15 Patrol and the MSR 15 Recon, both in .223 Remington. The company also launched two .308 MSR rifles, the MSR 10 Hunter and the MSR Long Range.
SIG Sauer (www.sigsauer.com) showed its P320 RDX pistol, which comes with a SIG Romeo1 red dot optic and extended sights. The P320 RDX is a competition carry model that features a ported barrel and a number of other design improvements, including an aggressive grip texture.
Smith & Wesson (www.smith-wesson.com) introduced the M&P 2.0 at SHOT. The new M&P was re-engineered to address some of the issues that some shooters had with the first generation of the handguns. The M&P 2.0 has a lighter, crisper trigger with a clear reset.
Springfield Armory (www.springfield-armory.com) showed its new Saint rifle. The Saint is a 5.56 NATO AR-style rifle that features a 16-inch barrel, a heavy tungsten buffer, a Bravo Company Mod 0 pistol grip, a Bravo Company oversized trigger guard, and a Bravo Company buttstock with rubber butt plate.
Sturm, Ruger & Co. (www.ruger.com) brought the new Ruger American Pistol Compact to SHOT. The pistol has a 3.55-inch barrel, points extremely well, and has a short trigger with a nice positive reset.
Taurus (www.taurususa.com) brought its updated Taurus 180 Curve Pistol. It still has a distinctive curved shape to enhance ergonomics and prevent visible printing, and now features a Viridian laser and light built right into the frame.
Gear & Accessories
Crossbreed Holsters (www.crossbreedholsters.com) debuted the Ark bag, which is not just waterproof but is also specially treated and ships with oxygen absorbers to protect equipment from oxidation and other environmental factors.
Hogue (www.hogueinc.com) introduced a bunch of new precise fit grips for popular concealed carry and backup handguns, including Glock G-42 and G-43, Smith & Wesson Shield and M&P compacts, Kahr Arms P and CW models, and Ruger LC9.
Oakley (www.oakleysi.com) showed its line of eyewear with Prizm lens technology. Prizm technology fine-tunes color details and contrast for optimal performance while shooting and during tactical applications.
Revision (www.revisionmilitary.com) recently introduced LazrBloc technology into its GF-8 ballistic lens. The eyewear protects officers from green lasers, which have been used against law enforcement during protests. The LazrBloc GF-8 lenses can be worn in day or night conditions.
Seal 1 (www.seal1.net) showed its CLP Plus gun care product. The cleaner lubricant protectant (CLP) is non-toxic, dissolves carbon on contact, and lubricates.
Tac Shield (www.tacshield.com) promoted its wide variety of slings at SHOT, including single-, double, and three-point models.
TruckVault (www.truckvault.com) introduced in-drawer lighting that can be mounted in any TruckVault drawer with provided Velcro strips.
TSSI (www.tssi-ops.com) showed its M-10 medical backpack. Designed for tactical medics, the M-10 can carry enough supplies to provide in-the-field trauma care for an entire SWAT team or numerous civilian casualties.
Voodoo Tactical (www.voodootactical.com) showed a rolling duffel bag called the Zipper Bottom Rifle Case with convenient wheels and a telescoping handle. The hard base lays flat with rails for stability while you open the zipper bottom padded compartment with sturdy straps to hold your rifle securely in place. The upper storage sections easily fold back for full access.
Wiley X (www.wileyx.com) introduced the Kryptek camo version of the WX Valor. The WX Valor has a shatterproof Selenite polycarbonate lens that meets military ballistics standards.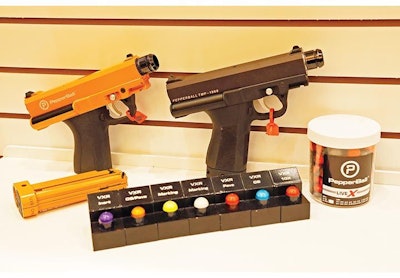 Less Lethal
Amtec Less Lethal (www.lesslethal.com) showed the TRMR-LE, a reloadable training flash-bang. The twist-to-arm device has an output of 172 decibels and 1.2 and can be reloaded up to 250 times.
Less Lethal Concepts (www.lesslethalconcepts) displayed its Pepper Pak 50, a backpack pepper spray system that holds 50 ounces of aerosol and has a range of up to 85 feet.
Mace (www.macetactical.com) showed its complete line of Take Down law enforcement products, including Take Down extreme, the company's 1.4% capasaicinoid product, which is available in stream and gel versions.
PepperBall (www.pepperball.com) introduced its Tactical Compact Pistol, a PepperBall gun small enough to be worn on a duty belt. The pistol's magazines hold both six rounds and the pneumatic power to propel them.
Miscellaneous
Jotto Gear (www.gojotto.com) debuted the ZRT gun rack for patrol vehicles. The company designed and manufactures its own lockhead made of zinc so it can't be broken, and no hotwiring will open the lock because of the Smartlok technology used. You can also easily adjust the height of the rack without tools to avoid obstructions and enhance safety and flexibility.
Lenco (www.lencoarmor.com) parked the Lenco BearCat X3 "FireCat" in its booth. The FireCat is a rapid response armored vehicle with an onboard water tank and roof-mounted nozzle and .50 caliber armor protection.
Mantis (www.mantisx.com) let attendees try the MantisX Firearms Training System. The MantisX uses an attachment on a handgun and an accompanying app to track and analyze shooting technique.
Mohoc (www.mohoc.com) now has a shoulder mount and multi-mount for flat mounting of its waterproof helmet-mountable camera with wifi for live streaming video. A K-9 mount and an IR-only camera with shoulder mount are now also available.
MTM Case-Gard (www.mtmcase-gard.com) showed its Tactical Magazine Cans, containers that offer a protected method of storage for loaded magazines. Designed to hold 20- or 30-round 223/5.56 AR-15 magazines in precut foam padding, the cans hold 15 metal magazines and are triple padlock tabbed for security.
North American Rescue (www.narescue.com) promoted the various versions of its Bleeding Control Kit, all of which contain a tourniquet.
Silynx (www.silynxcom.com) showed its new economical model the Clarus Prolite with just hearing protection and no communications, as well as the Recharge in-ear communications system. Recharge comes with an attached cable with a USB connection on one end for charging.
Viridian (www.viridiangreenlaser.com) previewed the FACT Duty weapon-mounted camera for law enforcement. The system provides 1920x1080 HD video capture, a 500-lumen taclight, integrated microphone, and Instant-On activation.
Lighting
Fenixlight Limited (www.fenixlight.com) introduced the TK47 dual-purpose long‐range flashlight, the company's first flashlight with a Cree XHP35HI LED. It puts out a 1,600- or 3,200-lumen beam at a distance of up to 700 meters and has a multi‐functional taillight fitted with white and red LEDs that can operate independently.
Fox Fury (www.foxfury.com) demonstrated its Taker series of shield lights. The newest models are the Taker B10, a 380-lumen ballistic shield light, and the Taker R40, a 650-lumen light that attaches to the back of riot shields.
Pelican (www.pelican.com) introduced the 7100 and 7600 USB rechargeable LED flashlights. Both have four modes including strobe.
PowerTac (www.powertaclights.com) showed its new Marksman weapon light, which is made to fit all midsize and full-size pistols. It features a light, laser, and laser-light combo and produces 550 lumens.
Streamlight (www.streamlight.com) Streamlight had a bunch of new flashlights at SHOT, as well as the new TLR-6 for non-rail 1911 handguns that features a C4 LED illuminator and a 640-660nm red laser.
Optics and Sights
Chromatra (www.colortacnightvision.com) debuted a night vision tool that allows the user to see color at night. Called the ColorTac CVA-14 Color Night Vision Adapter, it clips onto any existing PVS-14 device and uses new technology to fool the brain into believing it's seeing color, so you see actual colors even in the dark.
Harris Corp. (www.harris.com) demonstrated a tool that lets officers using a night vision goggle from the company's night vision division stream video.
March Optics (www.marchoptics.com) debuted its new High Master line of scopes that feature super ED glass for reduced chromatic aberration and less image distortion at long distances. The three new scopes are the March 10-60x56mm Zoom Scopes for Ultimate Long Range, March 40–60x52mm EP Zoom Scopes for Benchrest Competition, and March 48 x 52mm Fixed Power Scopes for Benchrest Competition.
Night Vision Devices (www.nvdevices.com) featured the XLR-14 night vision monocular, an upgraded AN/PVS-14 that includes a high-power infrared laser illuminator.
FLIR (www.flir.com) introduced thermal handhelds, weapon sights, and clip-ons featuring the company's latest uncooled thermal camera core, FLIR Boson.
Trijicon (www.trijicon.com) debuted the MRO Patrol. The latest model in the MRO (miniature rifle optic) line, the MRO Patrol features a 25mm objective lens, six visible illumination settings, two night vision settings, and infinite eye relief.
TruGlo (www.truglo.com) introduced the TruTec XS 30mm red dot sight with cantilever mount. The TruTec XS 30mm features a 2 MOA red dot and is designed to co-witness with A2 front sights.
Zistos (www.zistos.com) introduced its Tactical Dual Mode Thermal System. The new pole camera system includes Zistos' THC-51D camera, which lets you switch between thermal or IR illuminated mode, and contains a high-gain audio microphone. The system comes with a telescoping and articulating pole, and the images are displayed on Zistos' body-worn LCD display.
Protection and Armor
Angel Armor (www.angelarmor.com) is now offering lightweight Level IIIA transparent window armor for law enforcement vehicles. Enlight Window Armor is a new drop-in, tool-free, clear vehicle armor panel that provides NIJ Level IIIA defense while allowing for civilian interaction through a patrol vehicle's window. Also new from Angel Armor, Avail Ballistic Door Panels are designed to pair with Enlight Window Armor for full-door Level IIIA coverage.
Armor Express (www.armorexpress.com) exhibited a line of helmets it is producing in partnership with Germany's Busch Protective. The line includes one impact-only "bump helmet" and two ballistic models. The two ballistic helmets have VPAM-HVN-2009 certification, a standard that exceeds NIJ Level IIIA.
BulletSafe Vests (www.BulletSafe.com) makes more than vests, and had a new low-cost Level IIIA ballistic patrol shield simply called the Bulletproof Shield. It has an area of 700 square inches, weighs 9.9 pounds, and costs under $600. It doesn't have any cutouts or viewports, but it's designed to be small enough to carry in any patrol vehicle.
KDH Defense Systems (www.kdhdefensesystems.com) showed its Fearless carriers from body armor company KDH feature new heavy-duty material, and the company showed its Active Shooter kits, plate carriers you can rapidly put on over your existing uniform and concealable vest.
Point Blank (www.pointblankenterprises.com) brought its new Paraclete laser cut tactical carriers to SHOT. The company says it can reduce the weight of tactical carriers by 15% to 20% using laser cuts for gear mounting rather than MOLLE/PALS.
Soteria Armor (www.soteriaarmor.com) showed the capabilities of its fire-resistant breathable slash and stab armor apparel in demonstrations at the booth of business partner Safariland.
Safariland (www.safariland.com) debuted its new Matrix family of ballistic packages at SHOT. The panels are constructed of a hybrid of Teijin and Honeywell material and are designed to be more flexible than the company's previous Level II and Level IIIA packages.
Team Wendy (www.teamwendy.com) introduced many new products including a very sturdy zippable helmet bag called a "Transit Pack" that features moveable internal pouches and can be carried various ways, a Gen 2 lighter weight ballistic helmet that will be available in the Summer, the Carbon helmet with an updated TPU liner thats middle can be removed to fit a comms headband, the EXF Balaclava that's thin enough to comfortably fit under a helmet, and an ESS goggle attachment designed to work with many of the company's helmets.