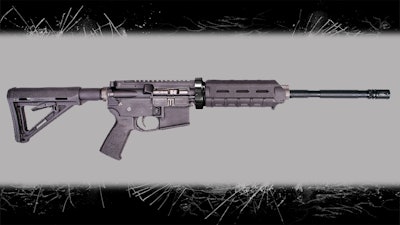 Frontier Tactical, a disabled veteran owned company, is launching its FT-15 series of receivers and complete rifles.
The FT-15 is the continuing evolution of the Frontier Tactical product development in the firearms industry. It is offered in two configurations.
The FT-15 Entry Carbine was designed for the AR-15 shooter. It is an optic-ready, dedicated entry level AR-15 that includes a few upgrades, but leaves the AR-15 ready for further modification. The lower receiver is marked "MULTI CAL" and is a semi-auto AR-15. It is the base model for future multiple caliber builds.
The FT-15 War Lock Entry Carbine is the upgraded version, and comes equipped with the War Lock Multiple Caliber System installed from the factory. No additional assembly is required.
Both versions come with 7075-T6 forged receivers and offer an enlarged ejection port, allowing cycling of the largest caliber cartridges available for the AR-15 platform (.450 Bushmaster, .458 SOCOM, and .50 Beowulf).
The heart of this modular weapon platform is the War Lock Multiple Caliber System. The War Lock replaces the barrel nut on an AR-15. Once installed, the AR-15 is modularly capable of firing over 90 calibers by changing simple components (barrel assembly, bolt, magazine, etc.). After initial installation, it requires no tools and caliber changes happen in seconds, according to the company.
The FT-15 stripped upper and lower receivers are also being released at this time.
For more information, visit www.frontiertactical.com.