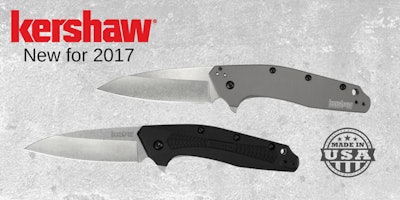 For 2017, Kershaw has introduced the Dividend. Like the company's Link series, it's made in the USA in Kershaw's Tualatin, OR, factory, yet still built at a very affordable price.
While the Link is a larger, burlier knife, some users prefer a slimmer blade. The Dividend is made for them. Not too big, not too small, the Dividend is designed as an ideal pocket carry.
The elegant drop-point blade measures 3 inches long and offers enough belly to be an efficient slicer, according to the company. The knife opens one-handed with SpeedSafe-assisted opening and a flipper. The handle curves gently to fit the hand comfortably and the Dividend offers two different handle styles: textured glass-filled nylon or anodized aluminum in matte grey. Both come with a decorative molded backspacer and left/right reversible pocketclip.
The manufacturer's suggested retail price for the Dividend is $59.99, or $69.99 for the aluminum handled Dividend.
For more information, visit https://kershaw.kaiusaltd.com/knives?search=Dividend