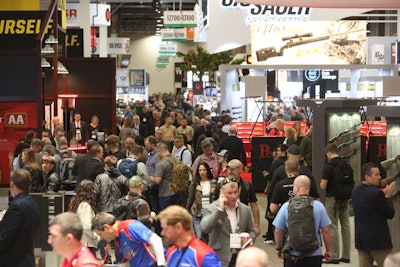 The Shooting Hunting and Outdoor Trade (SHOT) Show is held each January in Las Vegas at the Sands Convention Center. For more than a decade, this one-time hunting and gun show has become one of the world's most important law enforcement trade shows.
New law enforcement or law enforcement-applicable guns, ammo, apparel, armor, and other products critical to the profession debut at SHOT. Here's a look at some of the things that attracted our attention at this year's show.
AMMUNITION
Federal introduced several rounds for personal defense and law enforcement use. The Punch 9mm features a 124-grain bullet with a skived jacket for expansion and penetration. Federal also expanded its Hydra-Shok Deep line with a .380. Federal says the new .380 offers an expanding bullet that consistently penetrates 12 inches in bare ballistic gel.
Hornady showed multiple subsonic rounds at SHOT. The new rounds are available in 9mm, .40 S&W, .45 Auto, as well as hunting rifle calibers.
Speer introduced three new Gold Dot cartridges. Gold Dot CarryGun is optimized specifically for performance in compact and subcompact pistols and has a bullet with an elastomer-filled nose for improved penetration. It is available in 135-grain 9mm, 165-grain .40 S&W, and 200-grain .45 Auto +P. Gold Dot 5.7 x 28mm is designed for self defense and features a bonded bullet to prevent jacket separation. Gold Dot Rifle Personal Protection is designed for use in barrels shorter than 16 inches and is available in .223 Remington, .308 Winchester, and .300 Blackout.
APPAREL, GEAR, FOOTWEAR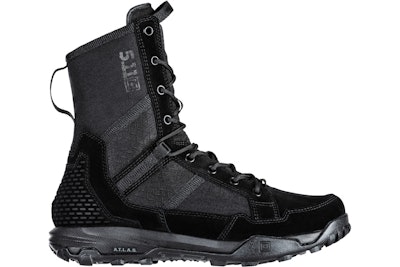 5.11 Tactical brought numerous new products to this year's SHOT. One of its biggest product launches was the A.T.L.A.S. (All Terrain Load Assistance System) footwear collection. The A.T.L.A.S. Boots are available in 8-inch and mid heights and feature an Echo Foam (high rebound) and Force Foam (high impact) midsole with the A.T.L.A.S plate for torsion and stability control. The A.T.L.A.S. Trainer takes its cues from the A.T.L.A.S. boots and is designed to withstand the toughest training sessions. 5.11 is also expanding its apparel line with new pants. The Defender-Flex Range Pant is built for those who require tactical performance from a casual-looking pant. The five-pocket jean styling is coupled with two additional back mag/utility pockets with reinforced seams. The Delta Pant is a slim fit cargo pant with nine total pockets. The low-profile cargo pockets and back pockets are zipper secured. New pants for women include the Women's Apex Pant, Women's ABR Pro Pant, and Women's Icon Pant. The Apex, ABR Pro Pant, and Icon are adopted from the men's line and updated with a women's fit. The Apex offers low-profile pockets and a comfort waistband. The ABR Pro and Icon were developed with feedback from female officers.
Casio showed its newest G-Shock tactical watch, the Mudmaster GGB100-1A3. The Mudmaster is made of a high-rigidity carbon material to protect against impact. A filter protects the inner workings from dust and mud. The bezel is made of three layers of fine resin with carbon fiber inserts.
Garmont introduced its Nemesis 6.1 GTX boots. The boots are lightweight and waterproof with an abrasion-resistant upper, Double Damper technologies for an ergonomic fit, and a Vibram extended sole. Available in black and coyote.
LA Police Gear debuted its line of jeans. They come in two versions: Terrain Flex Straight Fit and Terrain Flex Slim Fit in dark wash and medium wash. They have a nine-pocket design without the cargo pockets that identify tactical pants.
Propper showed its HLX line of tactical pants and shirts for men and women. Propper says the line is designed to have tactical features with a structured professional look. The HLX Pant is constructed of cotton and polyester that is treated for water and stain resistance. Available in five colors: black, Alloy, Earth, khaki, and LAPD Navy. The HLX Polo is 100% polyester and features odor and temperature control. The HLX Shirt is a short-sleeved, button-up design made of treated cotton and polyester. Available in black, khaki, and LAPD Navy.
Warson Brands, official licensee of Reebok for duty and uniform footwear, introduced the Trailgrip Tactical series at SHOT. All three models of the Trailgrip Tactical are built on a slip-resistant rubber outsole with an active traction lug bottom that the company says improves grip in a variety of terrains and surfaces. A MicroWeb lacing system keeps the foot locked in with lateral stability. Comfort is provided through a combination of a DMXRide Foam Midsole and a MemoryTech Foam Footbed. Available in 6-inch and 8-inch versions.
Vertx brought its new Cutback Tactical Pant to SHOT. The nine-pocket Cutback pant is constructed of cotton and polyester and features an athletic cut, articulated knees, and other features of quality tactical pants. Available in three colors.
Wiley X introduced two new tactical sunglass models at this year's SHOT, the WX Breach and the WX Contend. The Breach features Wiley X's patented Captivate polarized platinum flash lens technology for color enhancement. The WX Contend features smoke gray lenses in wrap design to protect against peripheral glare.
ARMOR, HELMETS, AND SHIELDS
Armor Express showed its Busch Protective AMP-1 TP helmet at SHOT. The helmet has increased edge and multi-impact capabilities to enhance its protective area by up to 50% compared to standard ballistic helmets, according to the company.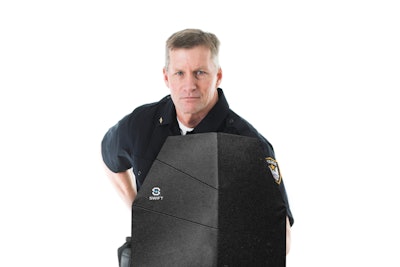 Partnering with Aegix Global, Advanced Technology Compliant Solutions (ATCS) has produced a folding Level IIIA shield that collapses down to the size of a notebook for storage. The quick-deploying shield weighs five pounds.
Boydd Products showed its line of compact rifle shields and shield accessories. The NIJ Level III shields stop 7.62mm and 5.56mm rounds, including special threats. Accessories include: shield covers, bags, slings, and FoxFury lights.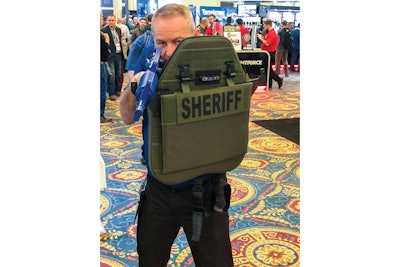 Honeywell introduced its newest ballistic fiber, Spectra Shield 6166, at SHOT. The company says Spectra Shield 6166 is its highest performing ballistic material for hard body armor.
Monadnock, a brand of the Safariland Group, debuted its Praetorian Riot Suit at SHOT. The company says the new riot suit, which is made of a rigid polypropylene polymer, features enhanced characteristics for optimal comfort and protection in crowd control situations. Its modular design allows suit components to be donned and doffed easily using a quick-release buckle system.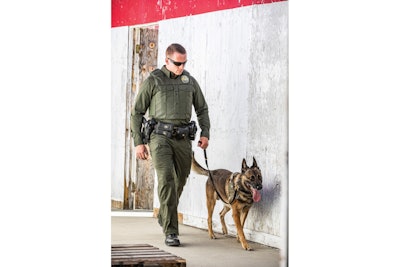 Point Blank and First Tactical announced the launch of an integrated apparel and armor system at SHOT. The V2 Pro Performance System is a collection of pants, shirts, and an exterior shirt-style armor carrier with ballistic panels. Point Blank says the V2 System is designed to look more like a uniform than competing products. The V2 Pro-Performance material is lightweight, breathable, and engineered for on-the-job comfort. The V2 is designed to give the officer more range of motion than comparable products, the company says.
Team Wendy showed its Epic Air Combat Helmet Liner System. The Epic Air is designed to make the wearing of combat helmets, not just Team Wendy helmets, more comfortable. It features a 1/2-inch-thick Zorbium impact liner with integrated air channels and customized comfort pads. Available in two sizes: M/L and XL.
Verco makes some of the most innovative NIJ Level III armor on the market. The company's UrbanShieldMH panel is a drop-in plate that combines ballistic fiber and a nested pattern of carbon fiber and boron-carbide tiles. Verco says the UrbanShieldMH offers better protection than conventional plates and is more comfortable to wear.
FIREARMS AND ACCESSORIES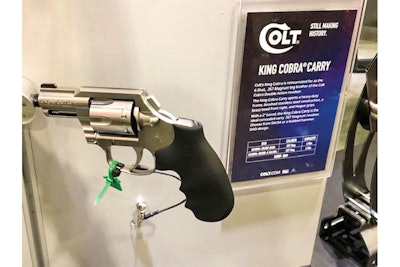 Colt announced that it is re-issuing its Python revolver at this year's SHOT. The new 2020 stainless steel Python is available in .357 Magnum and .38 Special with barrel lengths of 4.25 and 6 inches. Re-issued 2019 Cobra revolvers were also shown.
FN expanded its FN 509 line of pistols with the Compact MRD, an optics-ready 9mm concealable with 3.7-inch barrel and 12+1 capacity. FN also expanded its SCAR line of rifles with the SCAR 20 S in 6.5 Creedmore and 7.62mm.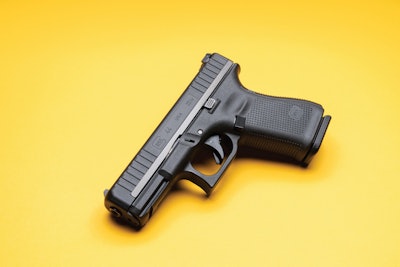 Glock featured one of the most popular handguns at Industry Day at the Range. Its new Glock G44 is chambered in .22 long rifle and is the exact same size as the Glock 19 and has a lot of Glock's Gen 5 features such as the elimination of the finger grooves. This gun is an excellent trainer for police officers, enabling individuals to more affordably get to the range to practice their marksmanship, movement, and manipulations.
Gripknife showed one of the most unusual products at this year's SHOT. The Gripknife is an AR foregrip that features an integrated fixed-blade knife. It deploys with the push of a button, giving an officer a weapon to counter rifle grabs.
KelTec brought its P17, a .22 rimfire pistol that looks and feels like a full-size duty pistol. Designed for inexpensive range training, the P17 has a magazine capacity of 16+1.
Mossberg took another step into the handgun market with the introduction of the Mossberg MC2C, a more compact version of the 9mm striker-fired pistol the company introduced a couple of years ago.
Otis introduced a new product line for law enforcement that will have police trainers and patrol officers alike delighted. The Reality Based Training Cleaning Kit is designed specifically to deal with the residue that can build up on the barrel and inner-workings of a duty pistol firing UTM or Simunition rounds.
Ruger surprised the firearms market and firearms press by announcing it was making a pistol chambered in 5.7 x 28mm. The new Ruger 57 is a full-size pistol that comes with 10-round or 20-round magazines. It features Ruger's Secure Action fire control, which uses an internal hammer and an ambidextrous 1911-style safety.
SIG Sauer showed its M400 TREAD rifle. The TREAD features a 16-inch stainless steel barrel with a free-floating M-LOK handguard, a single-stage polished/hard-coat trigger, ambidextrous controls, a Magpul SL-K 6 position telescoping stock, a mid-length gas system with an optics-ready aluminum frame, and is chambered in 5.56 NATO.
Smith & Wesson expanded the M&P 2.0 with the M&P9 Shield EZ. The subcompact has a 3.67-inch barrel and is named for its easy to rack slide, easy to load magazine with load assist tab, and easy to clean design.
Walther showed its new Q4 Steel Frame combines several of the best features of the company's previous designs into a very impressive 9mm pistol. The gun has a 15-round magazine and comes in either a steel-sights-only slide, or an optics-ready slide with holes drilled in for easy installation of a red-dot sight.
YHM showed its new Turbo Integral Suppressor System. The Turbo Integral comes with an integrated Turbo T2 suppressor, which is pinned and welded to a 10.5-inch 5.56mm barrel.
HOLSTERS
Alien Gear Holsters showed its new Rapid Force Duty Holster. The company says the Rapid Force Duty Holster allows for a faster, more natural draw without compromising security. Active retention is provided by an ejection port lock and locking backstrap.
Blackhawk showed its T-Series Duty Holsters. The holsters are available in Level II and Level III retention for pistols with or without lights. Features include thumb-activated retention, low-friction internal material, sound dampening lining for stealthy draws, and polymer construction. The Level III retention secures at the back of the slide.
DeSantis Gunhide debuted the Just Cause 2.0. The new safety holster is built from thermoformed Kydex sheet and glass-reinforced polymers. It features a rotating hood and a self-locking thumb-activated trigger guard lock that the company says is very intuitive. The Just Cause 2.0 is now available for Glock and Smith & Wesson pistols.
Galco Gunleather showed a new waist pack for concealed carry, the FasTrax Pac. The FasTrax Pac features an innovative combination of a pivoting holster component and external activation cord so that the wearer does not have to dig into the pack for the gun. The FasTrax is adjustable to fit a wide range of compact or subcompact defensive handguns.
Safariland, a brand of the Safariland Group, introduced a version of its 7TS series holsters specifically to fit and protect handguns fitted with red-dot optics. The initial offering will cover the Glock 17, 19, 34, and 47 MOS handguns. Seventeen model variations will be offered for duty, tactical, and concealment, including the 7360 ALS/SLS Level III Retention Duty Holster.
OPTICS
Aimpoint brought its CompM5b red dot sight, which is now being offered for sale worldwide. This ballistic compensating red dot optic is the newest member of Aimpoint's CompM5 series of sights and is powered by a single AAA battery. It is designed to allow the user to quickly adjust the positiuon of the 2 MOA red dot based on target distance and wind conditions using adjustable, interchangeable turrets.
EoTech, an L3Harris company, introduced three new magnifiers and a rifle optic. The G43 (3X) and G45 (5X) magnifiers are mini versions of the company's G33 (3X) magnifier. The G30 magnifier (3X) is designed to be an economical version of the G33. The new EoTech Vudu 1-8X24SFP rifle scope features a 0.5 MOA illuminated center dot and has a field of view at 100 yards of 105.8 feet at 1X and 13.2 feet at 8X.
Meprolight exhibited one of the most interesting optics debuting at SHOT, the Meprolight Foresight augmented red dot. The Foresight is Bluetooth connected to a mobile device app called Double Shoot that is automatically updated. The app features Automatic Digital Zeroing, which allows sight adjustment by shooting a multi-shot group and taking a photo of the grouping to the app. The app can store up to 10 zeroing weapon profiles or user profiles. Shooters can also use the app to choose from five pre-set tactical reticles.
Primary Arms showed its new SLx-MD-25, which offers a full 25mm of aperture. Buyers can choose from a 2-MOA dot or an ACSS reticle.
Trijicon showed a new handgun red dot and a new rifle optic. The Trijicon Specialized Reflex Optic (SRO) is a pistol red dot with a rounded top and a wider field of view. Every SRO features automatic and manual brightness adjustment. On the long gun side, Trijicon introduced its new Miniature Rifle Optic (MRO) HD, a sealed reflex sight with ambidextrous brightness controls. The MRO offers a large aperture and tapered light path for fast target acquisition, especially from non-conventional shooting positions.
TruGlo showed its line of NTOA recommended tactical optics, including the Tru-Tec 20MM compact 20mm red-dot sight. The 20MM features a 2-MOA red dot, quick-touch power on, multiple brightness settings, and programmable auto-off.
TOOLS AND LIGHTS
CRKT announced a new police knife late last year. The Provoke First Responder is a karambit-style knife that uses CRKT's Kinematic engagement system and offers law enforcement-specific features like a glass breaker and sheath that can be attached with MOLLE.
Garrett showed its THD Hand-Held Metal Detector. The THD features a high-impact case, a built-in LED flashlight, and ultra sensitive response.
Howard Leight showed its Impact Pro High NRR Electronic Earmuff offers a 30-decibel noise reduction rating in an earmuff that features ambient noise and voice amplification.
Maglite launched its new Maglite Tactical Group and a new tactical flashlight at SHOT. As the name indicates, Maglite Tactical is focusing on tactical lights and training. On the training end, the company is offering training in association with Bill Murphy and Firearms Training Associates. In addition, Maglite Tactical has worked with Murphy to develop a new tactical light, the Mag-Tac II. The new light is designed to facilitate popular light and handgun techniques, including Harries and Rogers. The body of the 398-lumen light has three pronounced ridges for enhanced finger hold with various grips.
N-ear Pro exhibited the SnapLock Connector, a two-way radio covert earpiece.
OTTO showed its NoizeBarrier line of headsets, including the NoizeBarrier TAC and NoizeBarrier Range SA. Both offer 23-decibel noise reduction with amplification of voices and ambient noise for situational awareness. The TAC version has a noise canceling boom microphone for operational communications.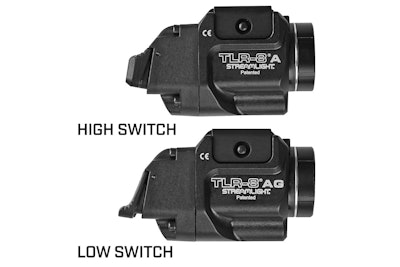 Streamlight introduced the TLR-8 A and the TLR-8 A G, featuring red or green aiming lasers, and offering ergonomic rear switch options with either a low or high position to match users' shooting style. Both lights deliver 500 lumens and feature a rail clamp that attaches and detaches easily from the side of a broad array of compact and full frame weapons.
TEA Headsets showed its Ares 2.0 Multi-Comm PTT system. The Multi-Comm PTT accommodates over-the-ear and in-the-ear headsets. The Ares is ruggedized to MILSTD-810G.