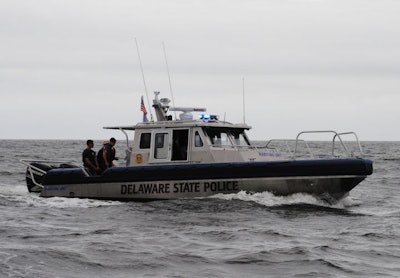 The Delaware State Police have established a maritime unit with two new vessels to patrol the state's 100 miles of waterways, support tactical waterborne missions, and assist rescue operations.
State police are using a $1.6 million federal stimulus grant for port security to fund the unit, which will employ three full-time troopers. The unit will focus on protecting critical infrastructure, such as ports and bridges, emergency response, search and recovery, and outreach to the maritime community, the state police announced Monday.
The two Metal Shark boats will support tactical Special Operations Response Team (SORT) teams, dive teams, and aviation units. The aluminum-hull boats measure 36 feet in length, and are powered by three 300-hp Verado outboard engines. They typically cruise at 35 knots, and can reach a top speed of 54 knots.
The new maritime unit has developed interagency relationships with the Wilmington (Del.) Police Department, state Department of Natural Resources and Environmental Control (DNREC), New Jersey State Police, FBI, Federal Air Marshals, and Amtrak.