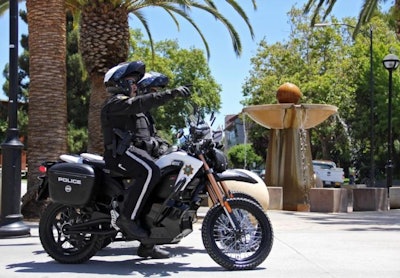 The San Jose State University Police Department has begun using two Zero DS electric motorcycles for campus patrols, Zero Motorcycles has announced.
The campus chose these first motorcycles for its campus fleet for their ease of use, maneuverability, near silent ride and San Jose State University's commitment to supporting local companies. The police bikes are used for everyday patrols, special university events and to respond to emergency calls on campus, according to the company.
The Zero police motorcycles allow officers to quickly access areas that were previously off limits due to the size of patrol cars. The department is now able to respond to calls much more quickly and efficiently than before as the bikes are fully equipped with police lights and sirens, as well as saddlebags to carry gear and emergency medical equipment.
The police motorcycles are based on Zero's 2012 model-year Zero DS, which has an approximate range of 112 miles on a single charge and can reach speeds of 80 mph.
"The San Jose State University Police Department purchased Zero police motorcycles for our patrol division because we believe the company and product blends well the university's strategic vision and it's a great way to support the local economy," said Capt. Alan Cavallo. "We are very satisfied with the motorcycles' performance."