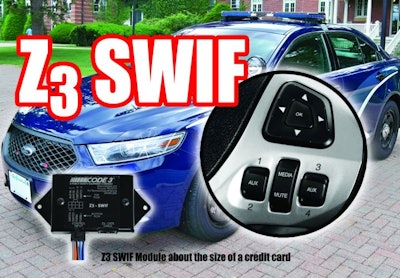 Code 3 has introduced the Z3-SWIF (Steering Wheel Interface Module) for the Ford Police Interceptor Utility and sedan vehicles.
The SWIF interface module, which connects to the Z3 control head, allows law enforcement agencies to easily program each one of the four customizable auxiliary control buttons on the steering wheel to provide any lightbar or siren function. The SWIF interface module provides hands-free capability for lighting and siren functions.
The SWIF is roughly the size of a credit card and can be installed almost anywhere in the vehicle. The SWIF module also comes with two additional inputs that can be used for other remote switching capabilities.
For use only with the Z3 siren and the optional auxiliary control buttons on the Ford Police Interceptor sedan (option 47K) or Utility (option 61S) steering wheel. SWIF dimensions are 4.25 inches long (with mounting plate), 2 inches wide, and 0.75 inches deep.