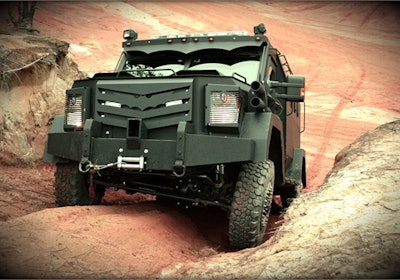 The Armored Group has introduced its Ballistic Armored Tactical Transport S AP (BATTS AP) that's designed for law enforcement agencies needing extra protection.
The BATTS AP shields against NIJ Level IV and .50-caliber ball round threats. It offeris protection on an Ford F-550 chassis and holds 12 to 14 fully geared officers.
Other features included are armor behind front fenders and head lights, as well as under the hood; a custom designed flip-up rescue seat to allow for side entry and exit; flip-out running boards to provide a safer platform for officers riding on the rails, and an extended rear officers area to hold more officers.
Armored Group also makes available the BATT S NIJ III Edition, which is designed for departments requiring rifle-round armor.