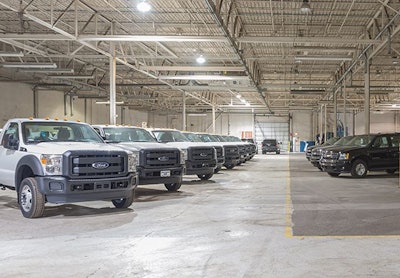 The Armored Group (TAG) recently opened a 144,000-square-foot manufacturing facility in Dearborn Heights, Mich., to produce armored rescue vehicles for law enforcement.
The facility, which is built on seven acres of paved land, will create 50 jobs. Located 18 miles west of Detroit, the new plant is geographically and strategically advantageous due to the OEM supply base and other suppliers in close proximity, according to the company.
The Armored Group procured new laser cutting, brake press, welding, and machining equipment that functions with state-of-the-art software to allow every part to be maintained within the engineering library for future use in production or after-sales service parts.
To ensure the working environment is maintained and verified to preserve robust processing and high-quality products, TAG has obtained ISO 9001 certification as well as VPAM certification on two vehicles that were tested at Beschussamt in Ulm, Germany—the top ballistic and testing facility in the world. Following the VPAM testing certifications, the vehicles were then tested for static rollover and demonstrated the capability to support over 13,000 pounds, without any roof deformation being observed.
TAG specializes in armored personnel carriers, personal protection vehicles, and cash-in-transit vehicles.