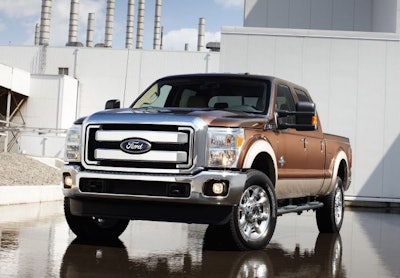 The all-wheel Ford F-250 crew cab pickup truck has surpassed the Cadillac Escalade as the most stolen insured vehicle and Modesto, Calif., again became the jurisdiction with the most per-capita auto thefts, according to two insurance associations.
Ford's large pickup unseated Cadillac's luxury SUV, which had topped the Highway Loss Data Institute's list for more than a decade. On the HDLI list of the top five stolen vehicles, the Ford F-250 was followed by the Chevrolet Silverado 1500 crew cab, Chevrolet Avalanche 1500 SUV, GMC Sierra 1500 crew cab, and Ford F-350 pickup. The HDLI surveyed 2010 to 2012.
The Escalade fell sharply in part due to anti-theft technology incorporated into the 2014 model year as well as the waning popularity of the vehicle, according to the institute.
Theft rates are declining due to the spread of ignition immobilizers that prevent vehicles from being hot-wired. They were standard on 89 percent of 2012 models, including the Ford F-250.
The four least stolen vehicles on the HDLI list were the Dodge Journey SUV, the Volkswagen Tiguan SUV, the Audi A4 sedan, the Acura RDX SUV and the Toyota Matrix station wagon.
The HDLI list is one of two annual listings of stolen vehicles and covers only insured-vehicle losses. The National Insurance Crime Bureau (NICB) develops a more comprehensive list of stolen vehicles based on thefts reported to law enforcement agencies.
In June, the NICB released it's "hot spots" report designating Modesto as the area with the highest per-capita rate of vehicle thefts. Larger metropolitan areas such as Los Angeles County typically lead the nation in aggregate thefts.
West Coast areas secured each of the top 10 "hot spots" on the list, and eight were in California. The remaining top-five auto-theft areas included Fresno; Bakersfield-Delano; Stockton; and Yakima, Wash.