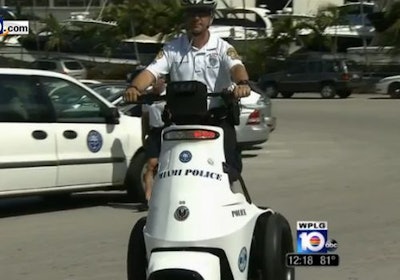 The Miami Police Department has purchased and placed into service a fleet of nine electric stand-up vehicles (ESVs) from T3 Motion Inc. The Patroller vehicles will be used to patrol high-density, high-traffic areas, including downtown Miami.
According to William Tsumpes, CEO of T3 Motion, police agencies in New York City, Dallas, San Francisco, and Los Angeles are using the vehicles and can keep them in service 24 hours per day using the vehicles' removable batteries.
Tsumpes further states that vehicles "typically pay for themselves within the first six months of service due to the fuel savings vs. standard gas powered vehicles. Our vehicles typically operate on approximately 10 cents per day of standard 120 volt electricity."
Miami Police Officer Hector Herrera said the difference between the ESV and a Segway is better balance.
The police department held fundraisers to help purchase the vehicles.