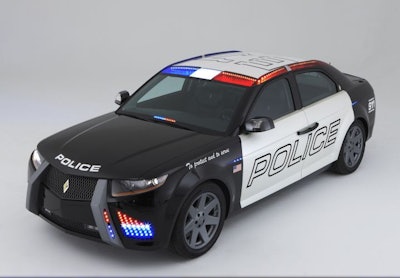 A year after the Obama administration denied Carbon Motors a loan to produce its specialty patrol car, the company has shut down the program and left its Indiana facility.
Carbon Motors abandoned plans to produce the purpose-built E7 patrol car. The company had developed a prototype vehicle, took over a former Ford plant in Connorsville, Ind., and began taking orders for the vehicle. The company said it had received about $200 million in private and public financing.
In March 2012, the Department of Energy denied the company's application for $310 million in loads under the Advanced Technology Vehicle Manufacturing program.
The company quietly left its facility last month and send a brief email to Mayor Leonard Urban thanking him for his support, reports the New York Times.
The E7, which was designed by a one-time Dallas-Fort Worth police officer, came at an opportune moment, as Ford announced it was discontinuing the Crown Victoria Police Interceptor. The prototype offered upgrades from the CVPI that were mostly incorporated into the new generation of police vehicles from Chrysler, Ford, and General Motors.
Related: