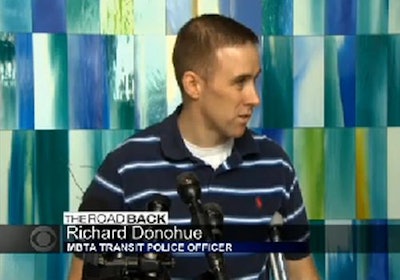 The Massachusetts transit officer wounded in the manhunt for the Boston Marathon bombers headed home Friday after nearly two months of hospitalization to recover from his wounds.
Officer Richard Donohue of the Massachusetts Bay Transportation Authority left Boston's Spaulding Rehabilitation Hospital on crutches with his wife to applause from his fellow MBTA officers.
Officer Donohue can take a few steps now and uses a cane to walk. He said he's looking forward to getting home to spend more time with his infant son and family beagle, reports CBS Boston.
In May, Donohue told CBS News he plans to return to duty once he recovers from a shooting that caused severe nerve damage. The shooting is still under investigation, and Officer Donohue has said it doesn't matter if he was hit by friendly fire. He has praised the officers who provided life-saving trauma care at the scene.