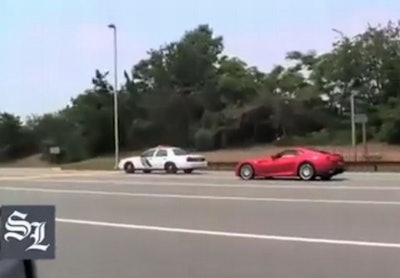 The former New Jersey trooper who led a high-speed convoy of exotic sports cars dubbed the "death race" has been sentenced to a year of probation and 75 hours of community service.
Sgt. 1st Class Nadir Nassry, who served with the New Jersey State Police for 26 years, was fired in March as part of a plea agreement for using black electrical tape to change the numbers on the license plate of his police vehicle to conceal his role in the March 30, 2012 caravan. He was charged with a fourth-degree felony of falsifying or tampering with records.
Nassry's subordinate, Trooper Joseph Ventrella, was also fired and will be banned from law enforcement employment in the state. He was a seven-year veteran. The charge will be dropped if Ventrella completes a first-offender program.
The troopers were suspended in April of 2012 for an escort dubbed "Death Race 2012" by one witness. Gov. Chris Christie called the escort "a dumb thing to do."