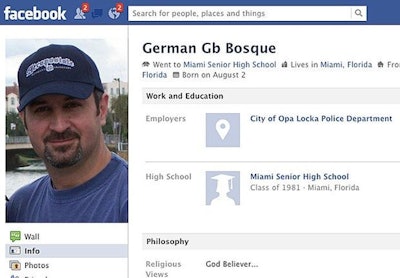 A Florida police officer who has been fired eight times is again seeking reinstatement after the Opa-locka Police Department terminated him for leaving his AR rifle with a future in-law.
During his 20-year career, former Sgt. German Bosque has been accused of cracking the head of a handcuffed suspect, beating juveniles, hiding drugs in his police car, stealing from suspects, defying direct orders and lying and falsifying police reports. He once called in sick to take a vacation to Cancún, reports the Miami Herald.
Bosque apparently left his AR-type patrol rifle with his future father-in-law while he went on vacation.
Bosque was told to turn in all his weapons in April 2012 after he was relieved of duty for another complaint. He said his rifle was with his fiancée Liddy's father, a security guard who he said lives with him and his wife-to-be in North Miami.