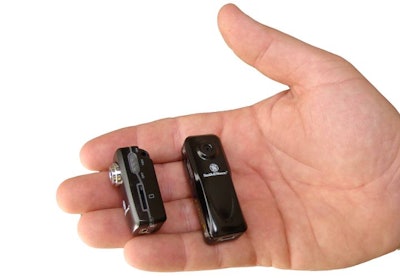 OfficerStore.com is now offering Smith & Wesson's Concealable Video Camera and Audio/Visual Evidence Collector, which enable evidence recording in compact, concealable mini-cams.
The Smith and Wesson Camera Series includes the Mini that measures 1.5-by-0.75-by-0.78 inches and weighs 1.41 ounces. The Micro measures 2.6-by-0.75-by-0.78 inches and weighs 1.7 ounces.
Each camera provides image resolution of 640x480 pixels at 30 fps (frames per second). Both units feature a 4GB Micro SD card and 250 hours of sound in the trigger mode. The Mini version runs for two hours on a full charge while the Micro version runs for one hour.
Both cameras can be easily clipped to an epaulet or jacket lapel during investigations. They also feature finger-tip control and voice operation with time and second stamp. They can be easily turned on and off.