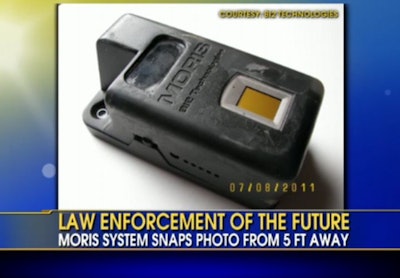 In the fall, Pinal County (Ariz.) Sheriff's deputies will be outfitted with hand-held devices that enable deputies to scan a subject's face and iris to find potential matches with people in criminal databases to combat smuggling.
The devices, which are slightly larger than a pack of cigarettes and attach to an iPhone, allow an officer to scan a subject's face from five feet away or scan an iris from six inches away. The scanners can also capture fingerprints, record audio and store video footage.
Pinal County Sheriff Paul Babeu is currently using the technology in his 1,500-bed jail for inmate processing, and views it as a leading-edge technology that eventually will see more wider acceptance in law enforcement.
"Throughout America, this is the wave of the future," Sheriff Babeu told POLICE Magazine. "This is going to help us make sure not only that we have the right person, but that we're releasing the right person."
Law enforcement agencies in 47 states are already using the technology in corrections facilities, and Sheriff Babeu believes he's the first to give it to patrol officers.
BI2 Technologies is supplying Sheriff Babeu with 75 hand-held readers, which are known as Moris, for Mobile Offender Recognition and Information System. The device will arrive in September with a card reader, allowing a deputy to swipe the driver's license or ID of a subject.
Sheriff Babeu financed the $250,000 purchase from a $1.7-million border-security grant he received from the state earlier this year to combat drug and human smuggling. Eventually, Sheriff Babeu believes the technology will better secure borders and other entry points.
"Immediately you see you're dealing with a very serious threat not only to our citizens and families but also to our nation," Sheriff Babeu said about the smugglers operating in his jurisdiction. "I pray to God that Homeland Security is looking at this technology to better protect our ports, borders and airports."
The sheriff eventually hopes to roll out the biometric devices to all of his 214 sworn personnel.
By Paul Clinton