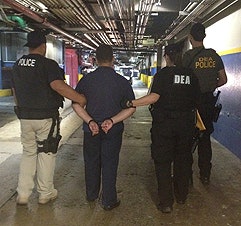 Cellular service provider AT&T has been working closely with the Drug Enforcement Administration and local law enforcement to provide extensive phone records during drug investigations, reports the New York Times.
The broad-ranging access to cellular records for law enforcement came under a partnership known as the Hemisphere Project which dates back as far as 1987. The surveillance program was far more wide-ranging than the National Security Agency's collection of phone call logs.
In the partnership, the federal government pays AT&T to place its employees in drug-fighting units around the country. The employees sit alongside DEA agents and local detectives and supply them with phone data to help track down drug traffickers who switch phones to avoid detection.
The secret program was revealed during a public records request filed with a West Coast law enforcement agency by Drew Hendricks, a Port Hadlock, Wash., peace activist. A PowerPoint presentation outlining the program listed among its success stories two 2012 California cases investigated by the Montclair Police Department and Redondo Beach Police Department.