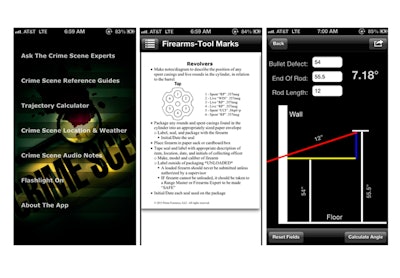 Prime Forensics has released a new crime scene app equipped with features to help officers with crime scene processing and evidence collection.
One of the features, Ask the Crime Scene Experts, allows officers to ask questions and find solutions for problems they encounter in the field.
The app also comes with more than 70 crime scene reference guides for person/property crime, photography, sketching, latent prints, biological/DNA, blood enhancement, firearms-tool marks, impression, trace evidence, and questioned documents. Additional guides are included for processing shooting scenes, documenting bloodstains, morgue responsibilities, video evidence, and arson scenes.
In addition, the app offers interactive tools such as a trajectory calculator to determine vertical and horizontal angles. Other tools allow officers to save and export crime scene GPS coordinates and addresses, as well as record the weather information at the scene.
Users can record, play and export crime scene audio notes. There is also an option to activate a light to use the phone as a flashlight.
CSI Connect is available for Apple and Android devices. It is available through the iTunes Store and Google Play Store for $6.99.