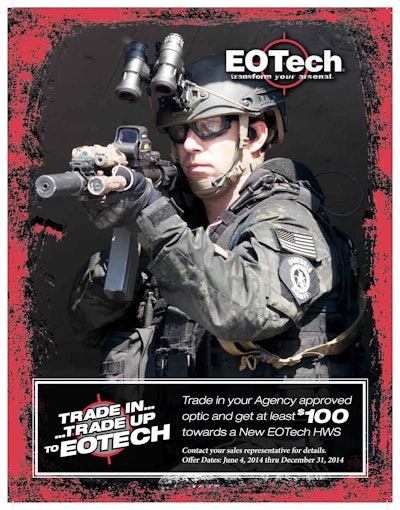 EOTech has announced its first-ever Law Enforcement Trade-In/Trade-Up Program. From now until December 31, 2014, this program will provide law enforcement officers and agencies with a local in-store redemption, ranging from $100 to $225, when trading in an old agency-approved optic for a new EOTech Holographic Weapon Sight.
The trade-in process can be managed by select authorized EOTech dealers or distributors. Law enforcement officers or representatives of agencies simply contact their local supplier, choose their desired EOTech model, and turn in the old agency-approved optic(s) along with any required agency documentation. The dealer will provide the officer or agency the appropriate discount level based on the value of the new EOTech optic they have selected. The EOTech dealer handles everything from that point, including the return paperwork and new product orders. EOTech models favored by law enforcement agencies have been manufactured in advance to eliminate any possibility of delay in getting new products shipped and back on patrol.
EOTech Director of Public Safety, Paul Cunningham, said, "EOTech is committed to supporting local law enforcement by offering the most advanced weapon accessories available. This is one of many programs we offer to ensure that the men and women who are protecting our communities have the equipment they need in the field. As department funding decreases, many are relegated to Individual Officer Purchase (IOP) programs, utilizing personal funds for active, line-of-duty, lifesaving equipment. The implementation of this program will allow those officers to upgrade their current patrol optic with significantly less out-of-pocket expense."
This program runs through the end of December 2014 and is open to all active or current U.S. law enforcement officials and agencies. For more information, contact your local law enforcement equipment supplier or authorized EOTech dealer or distributor, or contact Paul Cunningham directly at Paul.Cunningham@L-3com.com.
EOTech, an L-3 company, delivers cutting-edge technology and products, including holographic sighting systems, tactical lasers, illuminators, and thermal imaging and night vision equipment.
Headquartered in New York City, L-3 employs approximately 48,000 people worldwide and is a prime contractor in aerospace systems and national security solutions. L-3 is also a provider of a broad range of communication and electronic systems and products used on military and commercial platforms.