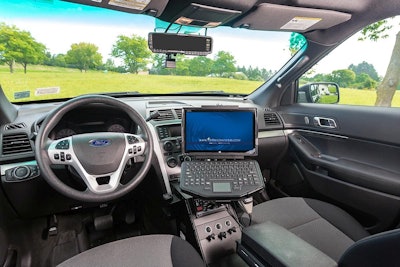 Brite has released its next generation mobile computing solution for law enforcement, the Q-Active Dock for the Fujitsu STYLISTIC Q-704. The Q-Active Dock was created from real-life usage, feedback and extensive research as a custom solution specifically for law enforcement, fire and EMS. With this latest release, Brite aims to maintain its critical values of improving officer safety, reducing the technology footprint and lowering the total cost of ownership. The Fujitsu STYLISTIC Q-704 meets the technology requirements of today's law enforcement including a large 12.5-inch, full HD display, embedded 4G/LTE, the latest Intel Core i7 processor, 8GB of memory and high capacity 256GB SSD. Lastly, the Fujitsu Q-series is MIL-STD-810G certified, handling the rough conditions inside the vehicle and withstanding the harsh environment outside.
"I am very excited to bring this solution to the public safety industry," stated Justin Smith, president and COO of Brite. "I feel that this next generation Q-Active Dock adheres to the benefits our customers have grown to expect while meeting the advanced technology requirements of today's crime fighters."
Featuring the smallest footprint in the industry, according to the company, the swing-away mount easily moves out of the way, enabling quick access to in-dash controls. "The mount has been designed with the officer in mind," said Paul Lundberg, Brite's exclusive manufacturing partner of the swing-away mount. "We kept the design minimalistic, sturdy and versatile, allowing the officers to perform their duties with little to no interference from the equipment."
Kevin Wrenn, senior vice president of Platform Products with Fujitsu, states, "Beyond the 12.5 inch screen and 4G, the Fujitsu STYLISTIC Q-704 is built with a semi-rugged design, making it able to withstand industry strains like rain, dust and extreme temperatures." Understanding security is of the utmost importance, the Q-Series Tablet features an integrated biometric reader, limiting the additional equipment needed to meet CJIS' strong authentication requirement.
About Brite
Since 1999, Brite has focused on delivering safe, ergonomic, mobile solutions for public safety. Brite is a full systems integrator and consultancy focused on providing IT solutions that allow customers to achieve their business goals and objectives. In business since 1983, Brite is a privately held organization dedicated to delighting customers.