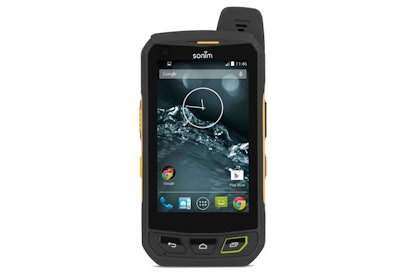 Sonim Technologies, maker of tough mobile phones for public safety applications and use in extreme environments, announced that its ultra-rugged XP7 LTE Android smartphones will be used in a demonstration of emergency communications during the International Ski Federation's Alpine World Ski Championships beginning this week in and around Vail, Colo.
As First Responders converge to support the International Ski Federation's World Alpine Ski Championships, they will have an opportunity to use next generation communication technology to enhance public safety on the company's Band 14 XP7 smartphones.
The dedicated Band 14 LTE network provides a high-speed wireless data pipeline that is not impacted by the general public. The 700 MHz Band 14 spectrum has been made available with the approval of FirstNet and a grant from the FCC for a special temporary authorization (STA). The network covers the towns of Vail and Beaver Creek, and has been made available by General Dynamics Mission Systems and Crown-Castle.
Running Feb. 2–15, the event brings together top skiers from around the world to compete for the year's highest honor in skiing. The event is expected to bring more than 800 athletes and staff, 2,000 members of the media and upwards of 150,000 spectators to the Vail Valley with events in Beaver Creek Resort and the town of Vail.
With over 2,000 volunteers augmenting existing local, state and federal first responders, ensuring public safety will be both critical and complicated. Events will be taking place in multiple locations across Eagle County, including the high-mountain terrain of the Beaver Creek resort and the town of Vail.
"With so many first-responders and officials concentrated in such varied and challenging geography, this is a prime opportunity to test the possibilities of our XP7 smartphones for LTE mobile communications with public safety applications," said Robert Escalle, the company's Senior Director of Public Safety and Defense.
Escalle said Sonim XP7 smartphones will be used to communicate over a first-of-its-kind installation of 700 MHz Band Class 14 LTE mobile facilities by General Dynamics using a distributed antenna system by Crown-Castle to provide a dedicated public safety capability in and around the town of Vail.
At more than 8,000 feet above sea level, the Vail area is in extremely challenging geography notorious for limited communications. Users of the network are expected to test various applications, including real-time video, voice over IP (VoIP) communications, situational awareness and many others in practical situations to help develop an understanding of how this technology can support public safety.
"Sonim is committed to bringing first responders the most robust, reliable and interoperable mobile communications and computational tools so that they can properly manage complex inter- and intra-agency efforts," said Escalle. "Our smartphones are partnered with the best public safety industry applications and accessory providers to deliver an unmatched ultra-rugged platform and the most complete ecosystem to support public safety efforts."
Sonim mobile phones are built specifically to withstand the rigors faced by men and women in public safety, as well as those who work in industries such as construction, oil and gas, logging, maritime and agriculture, and those serving in the military.
XP7 attributes include 40 hours of LTE-based talk time, extreme durability in hot, dusty and wet environments, visibility under direct sunlight and support for a wide range of Android applications.
The XP7 meets Sonim's Rugged Performance Standards (RPS), which go far beyond basic MIL-Spec and IP certifications. Standard features include an extra-loud speaker, noise cancellation, a powerful, 4,800-milliamp battery, resistance to submersion in water, an ability to withstand drops onto concrete surfaces and ease of use with dirty or wet work gloves.
The XP7 also comes standard with a Blanview screen that can be viewed in direct sunlight – a critical feature for everyone who works or engages in activities outdoors. Sonim devices also have a robust suite of industrial-grade accessories, such as remote speaker microphones, car kits and headphones.
Select Sonim devices, including the XP6 ultra-rugged smartphone, are sold nationally through AT&T.
For detailed specifications and more information, visit www.sonimtech.com
Sonim Technologies (www.sonimtech.com) is the provider of mission-critical solutions designed specifically for workers in extreme, hazardous and isolated environments. The Sonim solution includes ultra-rugged mobile phones, business process applications and a suite of industrial-grade accessories collectively designed to increase worker productivity, accountability and safety on the job site. Sonim offers a three-year comprehensive warranty for its rugged technology. The company is headquartered in San Mateo, Calif., and offers its products through mobile operators around the world.