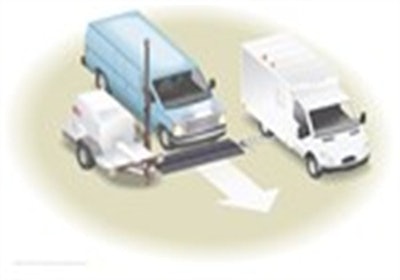 American Science and Engineering, Inc. (AS&E), a leading worldwide supplier of X-ray detection solutions, today announced the introduction of the ZBV with Tx-View dual-energy transmission option for its line of Z Backscatter Van (ZBV) mobile cargo and vehicle screening systems. The new Tx-View for ZBV provides enhanced detection of weapons and metallic components of vehicle-borne improvised explosive devices (VBIEDs) to complement the ZBV's Z Backscatter imaging. This combination provides law enforcement, customs, and security personnel with a versatile, multi- technology, mobile cargo and vehicle screening.
The ZBV system is the top-selling cargo and vehicle screening system in the world. With more than 750 systems sold to date, AS&E's ZBV system is used by leading government agencies, border authorities, law enforcement personnel, military organizations, and security agencies in more than 65 countries.
Since its introduction in 2003, the ZBV system has consistently received the highest marks for quality, reliability, performance, and safety with a proven record of detection results, AS&E said. The ZBV with Tx-View option meets these high standards with enhanced detection capabilities and adherence to domestic and international radiation safety standards.
"The ZBV and its Z Backscatter technology provide unsurpassed detection of drugs, explosives, and other organic threats, while the Tx-View adds enhanced weapons and metallic threat detection," said Chuck Dougherty, AS&E's president and CEO. "By continuously innovating our product portfolio, and pioneering more advanced detection technology—like the new Tx-View option—we are further enhancing the ZBV to provide even stronger support to AS&E's customers' critical security missions."
AS&E's new Tx-View option for ZBV allows security personnel to simultaneously acquire dual-energy transmission and Z Backscatter images of scanned cargo and vehicles for superior detection of threats and contraband. Dual-energy transmission imaging is designed for detection of metallic threats such as weapons and artillery shells, while Z Backscatter imaging delivers the clarity needed to quickly and easily identify commonly smuggled organic threats and contraband, such as narcotics, explosives, cigarettes, alcohol, and currency.
Deployed quickly and easily, the Tx-View option is completely self-contained in a trailer for storage and transport. The Tx-View option for the ZBV product line will be available for shipment in fall 2015.
About AS&E
American Science and Engineering, Inc. (AS&E) is a trusted global provider of threat and contraband detection solutions for ports, borders, military, critical infrastructure, law enforcement, and aviation. With more than 50 years of experience, AS&E offers advanced X-ray inspection systems to combat terrorism, drug smuggling, illegal immigration, and trade fraud. AS&E systems are designed in a variety of configurations for cargo and vehicle inspection, parcel inspection, and personnel screening. Using a combination of technologies, these systems provide superior detection capabilities, with high-energy, dual-energy, and Z Backscatter X-rays — pioneered by AS&E. Learn more about AS&E products and technologies at www.as-e.com and follow us on Twitter@ase_detects.