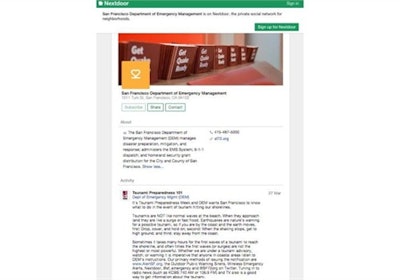 Nextdoor.com, the free and private social network for neighborhoods, has announced enhancements to Nextdoor for Public Agencies. The upgraded agency platform makes it easier for agencies and residents to connect and build stronger, safer and more resilient communities.
Nextdoor also announced it is expanding partner access to the platform beyond public safety agencies (police, fire, offices of emergency management) and is now welcoming local utility agencies (water, gas and waste management) to join Nextdoor.
Less than a year after the initial launch of Nextdoor for Public Agencies, Nextdoor has invested heavily in improving the experience for agencies with more timely and effective communication.
Nextdoor for Public Agencies enhancements include:
New agency pages - customized agency profile pages give residents an easy way to discover and track local agency posts and events
Citywide events - events can now be created by local officials to announce and better organize citywide happenings such as public meetings, safety training, and community activities
Improved communication experience - streamlined posting tools make it easier to edit and target messages using the Nextdoor neighborhoods map
Engagement tools - updated tools allow local officials to promote their agency participation on Nextdoor with shareable buttons, embedded links, and new invitation formats
Interactive map and metrics - new interface to visualize reach and community participation helps agencies better target updates and serve the community
"We are excited to give our agency partners new and improved ways to communicate with residents to build safer, more prepared communities," said Jeremie Beebe, Director of Partnerships at Nextdoor. "Over the past few years, we have seen agencies and neighbors rely on Nextdoor in times of emergency like the flooding in Colorado, earthquake in Napa, and tornadoes in Oklahoma."
More than 59,000 neighborhoods across the country use Nextdoor to connect with each other about the issues that matter in their communities, including crime, local recommendations, classifieds, and emergency preparedness. To date, over 750 local agencies in more than 580 cities use Nextdoor to work with residents to increase safety, resiliency and preparedness in communities across the country.
"During times of emergency and natural disasters it is often neighbors who are able to best help each other," said Rick Flanagan, Emergency Management Coordinator at the City of Houston Office of Emergency Management. "Nextdoor has played a vital role in not only helping our residents connect, but has given us an effective way to work directly with them to make Houston a more resilient, prepared city."
Nextdoor for Public Agencies is the best platform for local agencies to connect with verified residents, according to the company. Public agencies use Nextdoor to send periodic and targeted messages to specific neighborhoods, groups of neighborhoods, or their entire service area. Unlike other communication channels, agency officials appreciate that each member of Nextdoor is a verified resident within their jurisdiction. Verified residents who receive agency information have the ability to thank and reply to a post, creating a powerful, hyperlocal two-way dialogue. Residents value hearing from local officials while still maintaining their privacy, as member created content from their private neighborhood websites cannot be accessed by the local agencies.
Nextdoor for Public Agencies is free for both public agencies and residents. Public agencies interested in joining Nextdoor can visit nextdoor.com/agency to get started.
Nextdoor (nextdoor.com) is the free and private social network for neighborhoods. Using Nextdoor's platform, available on the Web and mobile devices, neighbors create private neighborhood websites where they get to know one another, ask questions, exchange local advice and recommendations, and organize virtual neighborhood watches to reduce crime. More than 59,000 neighborhoods across the country are using Nextdoor to build happier and safer places to call home.
Headquartered in San Francisco, Calif., Nextdoor is a privately-held company with the backing of prominent investors, including Benchmark, Greylock Partners, Tiger Global Management, Kleiner Perkins Caufield & Byers, Redpoint Ventures, Insight Venture Partners, Shasta Ventures, Meritech, Coatue, and Comcast Ventures.