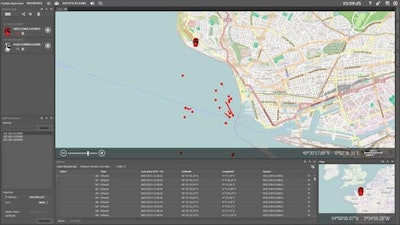 HGH Infrared Systems has introduced a new feature to accompany its advanced intrusion detection and tracking software, Cyclope, with the addition of Hypervisor. Ideal for critical sites where multiple Spynel, panoramic infrared thermal imaging surveillance systems are deployed, Cyclope Hypervisor centralizes all data to offer a global geolocation of all events tracked by all Spynels over a common network or across the globe.
Cyclope, which has benefited from frequent upgrades since its inception 10 years ago, provides users with an automated experience, detecting and tracking an unlimited number of targets-on land, in air, or on sea- simultaneously from all directions. With Cyclope Hypervisor, the system would automatically connect to all Cyclope workstations to pull up relevant data for the user. Some of this data would include: geolocation of all threats and sensors on vector smart maps, or custom local maps; table display listing the last detected events, with their ID, location and timestamp; a threat properties panel displaying the target's infrared thumbnails, location and time information; display and filtering of tracks from different modules (PTZ cameras, VMS or ARPA Radar); a notification panel allowing the user to configure sound alarms upon detection criteria.
The award-winning Spynel sensors offer a distinctive 360-degree perspective for wide area applications, thanks to the continuously rotating head that captures full panoramic HD images, which the Cyclope software then automatically analyzes by detecting and tracking all targets identified. The open architecture, which has always been a mainstay within the Cyclope framework, will remain the same to allow for an easy integration with other existing platforms in place such as command and control and radar platforms. Cyclope Hypervisor will provide an additional, enhanced layer of centralized security supervision for a network of Spynel sensors protecting some of the world's most critical infrastructures such as: airports, ports, international borders, nuclear plants, correctional institutions and more.
Founded in 1982, HGH designs, develops, assembles, and sells high-end optronic systems for security and industrial applications. HGH's engineering team comprises experts in optics, mechanics, electronics, and software. HGH strives to provide advanced and innovative infrared equipment to protect their clients all around the world, while keeping the agility and dedication of a small and passionate team. HGH has established itself as an international reference for infrared technology innovation through the development of multiple advanced thermal sensors, among which is its award-winning real-time 360 degree thermal camera, the Spynel-C.
For more information visit www.hgh-infrared.com