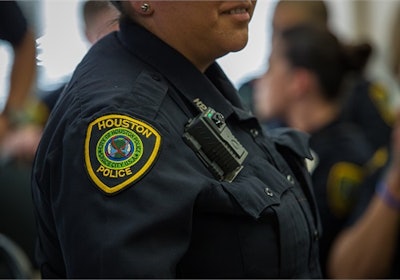 The Houston Police Department has begun deployment of 4,100 Vista HD Body Cameras manufactured by WatchGuard Video. The cameras, designed and manufactured in Texas, will be worn by all Houston police officers interacting with the public as defined by the agency's policies.
"This department has gone to great lengths to choose the best camera for this department," said Capt. Mike Skillern in an open roll call to officers.
The project leading up to the deployment started in December, 2013 when HPD initiated a one-year pilot program in which 100 officers wore body cameras daily. At the end of the one-year program, a comprehensive evaluation was completed with officers providing feedback on the pilot.
"This deployment is the culmination of an extensive and thorough vetting of our product by the Houston Police Department," said Stephen Coffman, president of WatchGuard Video.
The ruggedized cameras will be deployed to all patrol and supervisory first responders, Investigative First Responders (IFR), Crime Reduction Units (CRU), and officers on uniformed extra job assignments. Each camera will be uniquely, internally registered to a specific officer.
"Today we begin the process of becoming the largest city to deploy body cameras," said City of Houston Mayor Sylvester Turner. "It is my hope that these cameras show what we already know, that the overwhelming majority of officers are dedicated and committed to the City of Houston and keeping it safe."
"HPD is taking a smart and practical approach to body camera use and evidence management," continues Coffman. "We look forward to helping the police department use the highest-quality digital video evidence to increase operational transparency and improve police-community relations."
Video from the April 14 HPD Press Conference can be downloaded here: http://goo.gl/OQSJAq
WatchGuard Video is a technology pioneer and market leader for law enforcement video systems and evidence-management software. One-third of the agencies in the United States utilize WatchGuard's proprietary solutions to capture, manage and share digital video evidence. To learn more please, visit www.watchguardvideo.com or call (800) 605-6734.