Safariland, a brand of The Safariland Group, has introduced the U.S.-designed and manufactured Liberator IV and Liberator V advanced single and dual communications headsets. Driven by original TCI technology and design known for its high-end tactical communications, both headsets have several industry-first features and provide law enforcement, military, and protective service detail operators the ability to easily customize their audio profiles for secure single or dual communication situations, according to the company.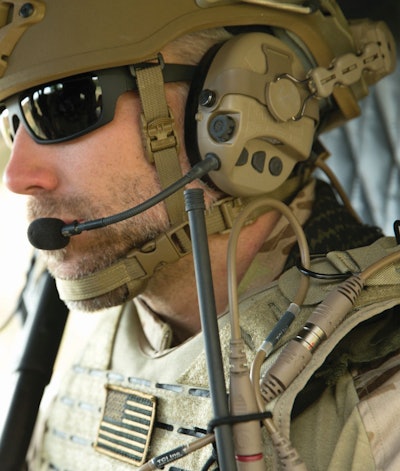 "To design these next generation tactical headsets, we focused on engineering exceptional, high definition acoustics," said Brad Medine, TCI category director. "With our internal experts and our state-of-the-art lab, we developed the highest quality transmit and receive audio in our industry while maintaining the pricing of previous models. These Liberator tactical headsets have the most technologically advanced communication package available," added Medine.
The Liberator series allows users to modify their audio profile with simple keystrokes on the headset and incorporates ANR advanced sound localization for maximum situational awareness and threat detection. With the introduction of what the company calls the industry-first Dual Fuel system, the Liberator IV and Liberator V headsets run on either two AAA or one CR123 battery and utilize an upgradeable and updatable software using Near Field Communications (NFC) technology.
Compatible with more than 250 different tactical communication sources, the Liberator IV and V headsets are the first of its kind with electronic noise compression and active noise cancelation. These headsets are ideal for users who need be able to adjust their headsets to ANC (Ambient Noise Cancelation) to reduce constant loud noise or to ANR/ANC mode to allow in ambient audio but reduce constant background noises.
For operators seeking a single communication platform, the Liberator IV headset provides multiple push-to-talk (PTT) options, while the Liberator V headset has an R.4 dual communications push-to-talk feature compatible with radio audio channel enhancement (R.A.C.E.). Both headsets feature a universal, modular suspension to easily adjust without tools for over-the-head, behind-the-head, or helmet mounting.
These Liberator headsets have a proprietary glass polymer injection-molded earcup design, layered with sound barrier technology, and are offered in Black, OD Green, and FDE (Flat Dark Earth). PTT and cables are available in Black and FDE (Flat Dark Earth). Available for order now.
For more information about Safariland's latest communication systems, visit www.safariland.com.