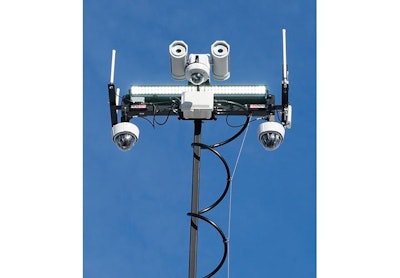 The Commander 3400 mobile trailer from Mobile Pro Systems can help solve many of the communications issues and video surveillance needs encountered by contemporary American law enforcement agencies.
With a gross weight rating of 3,000 pounds and a deployed length of 139 inches, the Commander 3400 can be easily towed into position to assist in law enforcement operations. Features include a rotating mast that includes a unique stabilization system and telescopes up to 36 feet, surveillance cameras, wireless and cellular connectivity, onboard storage of video, 2-way audio, and a rechargeable array of a dozen 12-volt batteries.
The Commander 3400 was designed for both short-term and long-term deployments in even the remotest locations and most challenging climates, and it can be brought online very quickly. "You can have it up and running in 10 to 15 minutes," says Mobile Pro Systems' VP Steve Dunker, who adds that set-up of the system does not require any tools.
There are many law enforcement applications for the Commander 3400. It is often deployed at major entertainment or sporting events to add additional video monitoring and communications connectivity; at critical incidents to restore or back up emergency communications for wireless point-to-point, wireless mesh, and cellular networks; and in high crime or high traffic areas for surveillance.
"The Commander 3400 lets users set up important visual surveillance without requiring officers on the scene," says Dunker, who adds that the range of the video surveillance is greatly increased by the height of the Commander 3400's stabilized mast. "You could have an issue on a corner two or three blocks away and, with the capabilities of cameras mounted on the mast, you can see what is happening as if you are standing there." The Commander 3400 can be fitted with low-light and even thermal cameras for night surveillance.
Video cameras placed on top of the Commander 3400's stabilized mast also don't suffer from too much camera shake like they can on other masts, Dunker says. "Stabilization is a big deal in the video world, and it can make a real difference in the quality of the video when you are dealing with a 36X zoom camera. Without stabilization the camera can jiggle at the top, making the video look like it was taken during a hurricane," Dunker says.
Dunker says one of the things Mobile Pro Systems' customers like best about the Commander 3400 is that it doesn't require a lot of maintenance even while it is deployed. An onboard generator automatically charges the batteries once they reach a specific discharge threshold. The onboard generator and automatic recharging system make it possible to run the Commander 3400 non-stop for months at a time on just a few gallons of diesel or gasoline. Users can also opt for solar panels to charge the batteries. Another feature Dunker says the company's law enforcement customers appreciate on the Commander 3400 is that it comes with all the cabling necessary for upgrades. "The system is plug and play for future technologies," Dunker says. "You can upgrade the technology without having to buy a new system."
One technology upgrade that Mobile Pro Systems is now offering on the Commander 3400 is the addition of an LRAD (long range acoustic device) for making announcements. "We are very excited about what this option will bring for our customers who want to use the Commander 3400 for civil disobedience and mass notification applications," Dunker says.