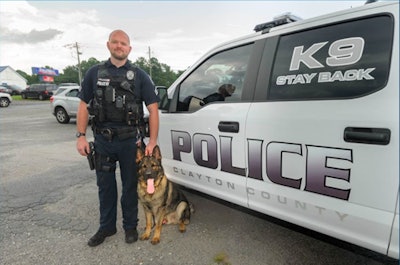 A Clayton County, GA, police K-9 was shot and killed about 2 a.m. Saturday while tracking a suspect into a local wooded area.
The suspect, 17-year-old Stephon Ford, was shot and killed by law enforcement approximately eight hours after their initial contact with him, as revealed by Assistant Chief Bruce Parks during a news conference held Saturday afternoon.
The incident originated as an investigation into suspicious activity involving three individuals at a motel. When Jonesboro police officers attempted to engage with the three individuals, all of them fled the scene, although two were swiftly apprehended, Fox 5 reports.
Jonesboro officers requested K-9 assistance from Clayton County.
K-9 Waro successfully tracked down the suspect at which point officers instructed Ford to surrender. Ford reportedly shot at the officers.
The K-9, who had been a part of the Clayton police force since 2021, was shot in the back and mortally wounded.
Warrants were issued for his arrest on the following charges: aggravated assault on a peace officer, aggravated cruelty to animals and destruction of government property, 11 Alive reports.
Officers then got SWAT involved while searching homes around the area before running into Ford again.