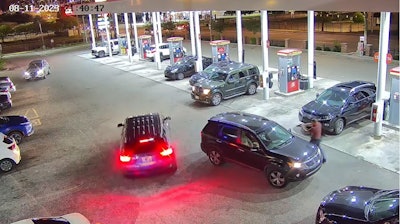 On Aug. 11, 2023, Chattanooga (TN) Police made contact with a man described by authorities as a felon, drug dealer, and gang member at a Speedway gas station. The contact ended with one officer wounded, the suspect Roger Heard Jr. fatally shot, and some in the Chattanooga community demanding answers.
The Hamilton County DA's Officer provided those answers Sunday, releasing video footage of the incident captured by the gas station's camera. The officers were not wearing body cameras.
DA Coty Wamp's statement that accompanied the video said Heard fired "multiple shots at point blank range" at an officers before police fired on him.
The video shows an officer, identified as Celtain Batterson making first contact with Heard while the suspect sat in his SUV with the windows rolled up. The video shows Batterson opening the door to the SUV and the suspect kicking the door open violently while firing at Batterson.
Heard shot investigator Celtain Batterson, striking him in his right arm, according to Wamp. Batterson was later taken to a hospital.
Investigators were at the Speedway gas station after receiving credible information about Heard's location, Wamp said, and that he would be "participating in illegal drug transactions." Police observed him parked at the pump and approached him to serve the outstanding warrants and arrest him, Times Free Press reports.
"As Batterson approaches, Heard can be seen reaching for an object — what we now know to be a firearm — with his right arm," Wamp's release said.
"Batterson attempted to open the suspect's vehicle door and at that time the suspect made a kicking movement in Batterson's direction, raised his right arm and fired multiple shots at point blank range in Batterson's direction, striking him in the right arm," the release said. "Batterson instantly retreated before being able to respond with gunfire."
Heard was fatally shot when he ran from the vehicle.