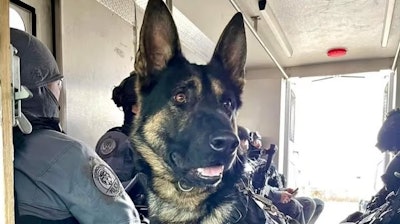 A Toronto Police K-9 was killed and an armed man was shot and injured Tuesday as officers attempted to arrest him in connection with a homicide, Ontario's Special investigations Unit (SIU) says.
Police went to an apartment building around 8 p.m. in order to apprehend a 44-year-old man wanted for second-degree murder, according to SIU spokesperson Kristy Denette, who spoke to reporters Wednesday morning, the CBC reports.
The man fired at police and then fled through a residential neighborhood before ending up in a backyard, Denette said.
K-9 Bingo was part of the search. The man shot and killed Bingo, Denette said. That is when a police officer shot and injured the man, she added. The man was taken to hospital for treatment, where he remains.
Bingo, a two-year-old German Shepherd, joined the force in July 2022.